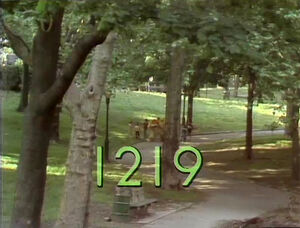 Picture
Segment
Description

COLD OPEN
10th Season Intro Still

SCENE 1
Maria is going on a two-day camping trip. The Count is present as she says goodbye to Bob and Olivia, then learns there are new things to count in the wilderness. He decides to join her (to her dismay). He leaves Big Bird in charge of counting things around Sesame Street while he's gone.

Muppets
Marshal Grover asks Fred the Wonder Horse why he's walking backwards -- he can only see where he's been, and not where he's going. He also wants to know what happened to Fred's head. Fred explains that Marshal Grover doesn't know the difference between front and back. "That is a terrible, mean, cruel thing to say to me, Fred!" Marshal Grover exclaims. "It is true, but..." Fred tells Grover that he's facing backward, and if he turns around, he'll see Fred's head. Grover turns around, and cries: "Oh, Fred! I've missed you! Oh, it's good to see you!" Fred says that if he stays turned around, he'll be able to see where he's going. Grover tries it, and he's proud to know the difference between front and back. Unfortunately, now his head is resting on the saddle, with his feet in the air.
(First: Episode 0629)

Cartoon
Dr. Frankenstein makes sure his monster knows about front and back.
(First: Episode 0782)

Film
Counting the circus clowns
(First: Episode 0501)
Cartoon
A trainer announces that his talking dog will say YES, but he says NO instead.
Artist: Derek Lamb
(First: Episode 0511)

Muppets
Sesame Street News Flash: Kermit witnesses as Old King Cole calls for his pipe and bowl (both of which he rejects), followed by his fiddlers three (along with a drummer, a saxophone player, and a bass player).
(First: Episode 0922)

Insert
Luis sings about how it's "Fun to Wonder."
(First: Episode 0925)

Film
Sesame Street Animal Films: Elk feeding.
Music: Robert Dennis
(First: Episode 0793)

Cartoon
Q for Quarter
Artist: Bud Luckey
(First: Episode 1176)

Muppets
Ernie & Bert — Ernie decides to set up an apple-selling stand, and has everything he needs, leaving out the apples.

Cartoon
Simple Simon meets some strange-looking animals, all of whom have their parts switched around.
Artist: Jeff Hale
(First: Episode 0540)

Cast
Gordon and Luis demonstrate front and back with a tandem bicycle.
(First: Episode 0826)

Cartoon
Hypnotic "Q" rainbow
(First: Episode 0440)

Film
The Mad Painter #2
(First: Episode 0309)

Muppets
Farley looks for his lost toy box.
(First: Episode 0279)

SCENE 2
Maria's campsite is all set up and she's already caught two fish to fry for dinner. The Count has instead been counting various items he brought with him from the city (signs, subway tokens, and a fire hydrant). He explains that he wasn't sure what he'd be able to count in the country and made sure he had something just in case. Maria opens his eyes to the many things in nature he can experience.

Film
Footage of a coral reef, showcasing the plant life and the fish.
Music: Joe Raposo
(First: Episode 0466)

Cartoon
Three little men climb up the three flower stems.
(First: Episode 0634)

Film
David (in voice-over) finds rectangles.
(First: Episode 0481)

Cartoon
A man assembles the word LOVE, and a bird pecks the O into the shape of a heart.
(First: Episode 0791)

Film
David asks the viewer to find a rectangle and two circles in the picture of a doorbell.
(First: Episode 0434)

Cartoon
A man tells a confused boy that he saw a bird in a tree, with both of their thoughts appearing on the screen.
(First: Episode 0565)

Muppets
Sesame Street pageants: Prairie Dawn directs the cast in a pageant about the face. Ernie talks about eyes, Cookie Monster talks about the mouth, Bert and Grover talk about ears, and Herry Monster talks about the nose. At the end of the pageant, they assemble a picture of a face.
(First: Episode 0711)

SCENE 3
Maria is unable to sleep, as the Count is busy counting stars in the sky (over 13,000 of them).

Film
What do birds eat?
(First: Episode 0495)

Cartoon
Ants carry a huge letter 'Q' uphill.
(First: Episode 0787)

Muppets
Ernie & Bert — Ernie asks Bert to play a game where they take turns counting and then saying "Q". Ernie goes first with "1 Q", and Bert follows with "2 Q". The game continues, until Bert gets to "10 Q". "You're welcome, Bert!" Ernie says.
(First: Episode 0440)

Cartoon
"Jazz #2"
(First: Episode 0001)

Song
"Spanish Foods Song"
(First: Episode 1111)

Cartoon
"Love" word animation
(First: Episode 0926)

SCENE 4
Maria returns to the street and describes to Bob and Olivia some of the many things the Count counted. She tells them she still had a nice time and is relieved to be home.

SCENE 4 cont'd
The Count eagerly awaits to hear about the things Big Bird counted while he was away. He's not enthused when Big Bird lists off the things he's counted about Mr. Snuffleupagus, claiming imaginary friends can't be counted. He changes his mind when he hears about the high values associated with Snuffy's meals.

Cartoon
Can a cat bark?
(First: Episode 0859)

Muppets
"Fat Cat"
(First: Episode 0536)

Cartoon
Would you mind closing our OPEN?
(First: Episode 0512)

Celebrity
Tennis star Arthur Ashe says the alphabet.
(First: Episode 0775)

Cartoon
A man discovers the letter O has fallen off a HOTEL sign.
(First: Episode 1114)

Song
"Beet Beet, Sugar Beet."
(First: Episode 1171)

Transition
Bridge #9 - Rectangle Bridge
(First: Episode 0290)

Celebrity
Victor Borge: "Pardon my back...pardon my front, but that's the way I'm built."

Cartoon
Four people cooperate building a table.
(First: Episode 0537)

SCENE 5
The Count sleeps out under Maria's fire escape to count stars again, unaware that the stars are the same in both the city and country. Despite this, he wants to make sure and continue counting. Bob announces the sponsors.
Community content is available under
CC-BY-SA
unless otherwise noted.