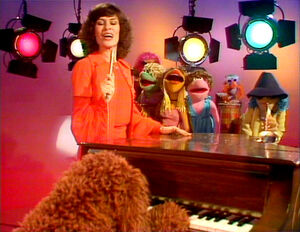 Kermit is skeptical when everyone backstage is terrorized by "the Phantom of the Muppet Show." There turns out to be one, though -- Uncle Deadly, a monster-actor who performed in the theater years ago. After being panned by the critics, he vowed never to perform there again, and not to let anyone else perform either. He warns the Muppets, "Leave or be doomed!"
Songs/Sketches
Notes
Uncle Deadly appears in a sketch with Vincent Price in episode 119, which was recorded earlier than this episode. The Muppet Show originally aired in syndication, and the episodes aired in a different order based on the market, so the audience in some markets may have seen this "introduction" for Uncle Deadly after seeing him appear with Vincent Price. Uncle Deadly drops the "Phantom of the Muppet Show" motif after this, and becomes a basically benign member of the cast.
Twiggy's opening number, "In My Life," was replaced in the German Die Muppet Show version of this episode by German singer Mary Roos singing "Lean On Me" with Rowlf on piano (whom she has a short conversation with prior to the song), Floyd on bongos, Janice on guitar, Zoot on sax, Animal on drums, and two female background Whatnots. The footage both before the sketch (the introduction with Gonzo and Fozzie) and after (with Statler and Waldorf) were the same visuals, but rewritten slightly for the different guest star. Starting and closing the show, Kermit's dialog further gave credit to both guest stars. On the Die Muppet Show: Season One DVD set, the full English version (including "In My Life") was included as an extra, while the German episode with Mary Roos was used as the regular episode for the series.
Episode
Picture
Description

"The Muppet Show Theme": Gonzo hits Beautiful Day Monster instead of the "O." (Repeated from episode 116.)

A Feather Duster sings "Dance" with a group of Feather Boas to back it up.

Backstage, while Kermit exchanges a few words with the Feather Duster, Scooter shudders upstairs : he is certain that there is a Phantom of The Muppet Show! While he was in the guest star's dressing room, Scooter saw a ghoulish, fiendish looking face in the closet (what Scooter was doing in the guest star's closet is not explained). Hilda explains that it was only her, hanging up the star's wardrobe, but Scooter sticks to his story, stating he saw the face after she left. Wanda emerges from her dressing room to confirm Scooter's suspicions... and to faint over the railing.

Gonzo, in one of his few introductions, introduces Twiggy as "Leafy," "Barky," and "Branchy" before Fozzie arrives to correct him and pull him offstage.




A group of reporters (including Kermit, Floyd, Nigel, Janice and Gonzo) have gathered to ask Twiggy such questions as "How is it a beautiful girl like you only has one nose?" More importantly, she is asked who the most important people and places in her life are. The question gets Twiggy thinking, and so she sings "In My Life."

Fozzie and Gonzo have caught the fear of the phantom. Hilda and Kermit continue to doubt that there truly is one, and Kermit demands that the others keep their "head on their shoulders." (A strange apparition takes this advice literally.) But the phantom will soon reveal himself, and in fact does reveal himself to the audience.

Wayne and Wanda try to sing "Let It Snow! Let It Snow! Let It Snow!"




Gonzo and Muppy are all ready for bed and hoping for a bedtime story from Twiggy, which she has conveniently rehearsed. She tells them A. A. Milne's "The King's Breakfast."

At the Dance: A few atypical couples appear in the ballroom. Statler and Waldorf argue over who should lead while Sam the Eagle explains to his dance partner the difference between immoral and illegal. And Kermit is roughly treated by Mary Louise, who throws him to the chandelier.

UK Spot: Rowlf the Dog plays "Minuet in G Major," making a few minor mistakes along the way.

Fozzie Bear encounters Vendaface, the first fully-automatic psychiatric machine. Fozzie feeds the machine several nickels as prompted to find out that his problem is: "You are much too generous."

Kermit refuses to believe in any phantom of The Muppet Show. But even Hilda believes now! Even once he has come face-to-face with the phantom, the level-headed frog assumes that there is a logical explanation for it. When no logical explanation is presented by the phantom, Kermit joins the other Muppets in running away, frightened.

Muppet News Flash: Mrs. Lola Thomas (Twiggy) of London speaks with the Newsman about having just eaten an entire diesel tractor.




The phantom reveals himself as Uncle Deadly, the great Shakespearian actor who was "killed" (proper or figurative meaning ?) by the critics when he played his most difficult role, Othello, and swore that he would never perform in The Muppet Theatre again, and would keep all others from performing there. He tries to drive Kermit out with the warning: "Leave or be doomed!"

Once Deadly is gone, Kermit joins the other Muppets who reveal that the phantom was all just a joke. Nothing more than George the Janitor wearing an old mask. But just as everyone has calmed down, Uncle Deadly returns, once again shouting, "Leave or be doomed!" The Muppets choose to leave, and rush off screaming. Uncle Deadly states, "That may have been one of the greatest performances of my career."

Twiggy, the Hillbilly Singer and the Gogolala Jubilee Jugband sing "Ain't Nobody's Business But My Own."

At the closing, Twiggy tells Kermit she had a lovely time, and even liked Uncle Deadly. Kermit tells her, "If you like him, you can have him." But she didn't like him that much. During their goodbye to Twiggy, the Muppets push and rush Uncle Deadly, until the phantom glances menacingly at Fozzie Bear, who takes fright and moves back.
Edits
Cast
Muppets:
Kermit the Frog, Fozzie Bear, Gonzo, Scooter, Rowlf the Dog, Statler and Waldorf, George the Janitor, Hilda, Wanda, Uncle Deadly, Feather Duster, Nigel, Woman with detachable head, Two-Nosed Whatnot, Floyd Pepper, Janice, Sam the Eagle, Wayne, Muppy, King Rupert the Second, The Queen, Cow, Pig dancers, Mary Louise, Vendaface, The Newsman, Hillbilly Singer, The Gogolala Jubilee Jugband, Dancers,
Background Muppets:
Performers
Gallery
External links