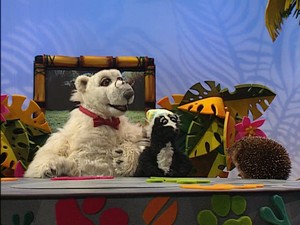 Stinky and Jake's guests are a grizzly bear (Jake's cousin) and a hedgehog, two animals that hibernate during the winter season. Stinky tries his hand at hybernating and wears a nightcap throughout the show.
Segments
Opening
That's Amazing: Sleeping snakes
Guest: Vernon the Grizzly Bear from North America, Asia and Europe
Baby Talk: Baby bears
Tizzy's Quiz: Can you guess what animal this is?
Yves St. La Roache: Eating while hibernating
Guest: Hetty the Hedgehog from Europe
Song: Hetty sings It's Hard to Hug a Hedgehog
Animal Awards: Rolling up into a ball
Story: a story about two porcupines
Habitat Time: Garden
Tizzy's Quiz: Can you guess what's hiding under here?
Closing
Cast
Releases
Notes
The song "Sleeping and Dreaming (Leaping and Screaming)" was originally written for Fraggle Rock.
Community content is available under
CC-BY-SA
unless otherwise noted.