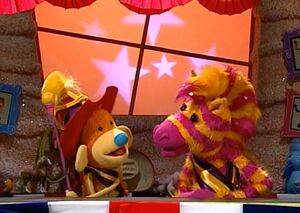 Waffle has been chosen to lead Bozark's annual big parade, but he doesn't know which foot he wants to start marching first. Edi wants to be in the parade too since last year she did it and had fun. Edi tries to drop some hints on helping out, but Waffle doesn't hear what she says. At the end, Waffle and Edi both got to lead the parade.
At the DJs' workstation, DJ 3 is practicing at twirling his baton for the parade while DJ 1 and DJ 2 try to avoid getting hit by it the baton.
Songs
"'Animals on Parade'"
"Kooky Critters"
"Bozark Paradin'"
Video releases
Community content is available under
CC-BY-SA
unless otherwise noted.