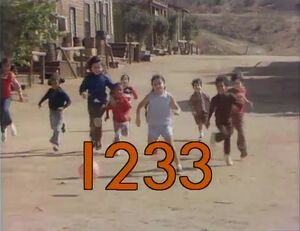 Picture
Segment
Description

COLD OPEN
10th Season Intro Still

SCENE 1
Hooper's Store now has a "Se Habla Español" sign in their window, as Mr. Hooper has been taking Spanish language lessons at night school. Big Bird wants to try this new policy out and constantly runs back and forth between the store and Maria to have a Spanish conversation with David.

Cartoon
A duckling dresses itself, naming all the parts of its coat.
Artist: Cathryn Aison
(First: Episode 1195)

Muppets
Bad Bart is looking for Marshal Earp.
(First: Episode 0537)

Film
A turtle swims in a tank.
Music: Joe Raposo
(First: Episode 0283)




SCENE 2
Olivia finds the Count waiting outside Oscar's trash can. The Count explains that Oscar invited some kids over and he's waiting to count them as they leave. Olivia doesn't think many kids could fit in the tiny can, but the Count wants to take advantage of the counting, no matter how little there may be. Five children then emerge from Oscar's can, to the Count's delight. Once the Count is gone, another guest appears to be exiting the can - Mr. Snuffleupagus.

Cartoon
A man discovers the letter O has fallen off a HOTEL sign.
(First: Episode 1114)

Muppets
Alphabet Chat: O
Mr. Chatterly tries to deliver a lecture about the letter O, but is distracted by several things that don't begin with O, like a rabbit walking with a cow. The Anything Muppet producers decide to cancel the show and take down the set.
(First: Episode 0837)

Cartoon
Would you mind closing our OPEN?
(First: Episode 0512)

Film
A gymnast demonstrates close to and away from.
(First: Episode 0513)

Muppets
Grover demonstrates near and far.
(First: Episode 0787)

Film
Jack Rabbit
Music: Joe Raposo
(First: Episode 0390)

SCENE 3
The Count has to tend to something downtown and needs someone to handle the counting on Sesame Street. Big Bird volunteers and is instructed to count people on the street. Big Bird starts with counting one Count walking away.

Cartoon
Billy Jo Jive and Susie Sunset help Wrong Way Willie find four landmarks for a school assignment.

Muppets
Sesame Street News Flash: Kermit interviews Prince Charming, who is looking for Cinderella. The prince tries to see whose foot matches the glass slipper. However, the shoe fits someone unexpected. (Kermit: "Boy, these fairy tales are starting to get me down.")

Cartoon
V for Van (live-action/animation hybrid)
Artist: Paul Fierlinger
(First: Episode 1181)

Cast
Bob sings "Follow the Leader" to the kids.
(First: Episode 0903)

Cartoon
An O rolls over and over a horse. The horse eats the O.
Artist: John Paratore
(First: Episode 0173)

Film
A boy narrates a film about how cheese is made.
(First: Episode 1124)

Cartoon
A lost number 5 looks for his brother.
(First: Episode 0934)

SCENE 4
There's nobody else around on the block for Big Bird to count, until Snuffy shows up. Big Bird counts him and Snuffy heads off to lunch. Big Bird doesn't think this is enough counting to satisfy the Count, however.

Cartoon
Two red curtains are dropped to reveal a number 5 covered in colorful dots that vibrate and disperse.
(First: Episode 0940)

Muppets
Kermit tests two blindfolded monsters and asks them which number they're feeling. Herry Monster minus his blindfold describes how he knew the number was a five and in the process breaks the five into pieces. Cookie Monster attempts to feel the number and Kermit tells him that he can't since its broken. Cookie Monster devours the pieces and tells Kermit it tastes like a five.
(First: Episode 1200)

Film
Sesame Street Animal Films: A widow bird flies from one tree to another.
(First: Episode 0391)

Cartoon
5s go through a space-shredder and produce 5 objects.
(First: Episode 0864)

Muppets
Same Sound Brown shows Farley that "That's What Reading's All About."
(First: Episode 1088)

Cartoon
Five feet stick out from a barrel, all belonging to a strange five-legged being.
(First: Episode 0859)

SCENE 5
The Count returns and Big Bird has a list of all the things he's counted. The list consists of all things relating to Snuffy, such has his feet, eyelashes, etc. The Count scans the list and comes up with his own figure - one wonderful imagination Big Bird has.

Cartoon
Monster in the dark (finding a light switch)
(First: Episode 0493)

Film
A kid marching band forms a triangle.
(First: Episode 0531)

Celebrity
The Pointer Sisters sing "Hush Little Baby."
(First: Episode 0793)

Cartoon
Consonant Sound: V, violin
(First: Episode 1157)

Muppets
Muppet & Kid Moment — Grover and Polly say the alphabet.
(First: Episode 0281)

SCENE 6
David sings "Three of These Things" using hats and a glove.

Cartoon
A dog pulls its master, who keeps begging "STOP!" until they reach the word STOP.
(First: Episode 0706)

Muppets
"I'm Between"

Cartoon
O for orange
Artist: Bruce Cayard
(First: Episode 0673)

SCENE 7
Big Bird shows Snuffy the list he made earlier, as the Count announces the sponsors.