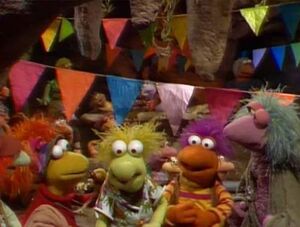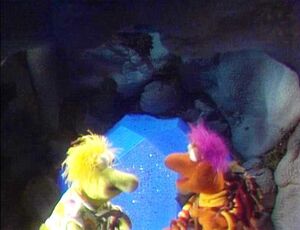 Fed up with Wembley's wembling, Gobo makes the terrifying journey to face the dreaded Beast of Blue Rock alone. But Gobo forgets his pickax, so Wembley has to go after him.
Meanwhile, Doc tends to Sprocket when he falls sick and plans to take him to the veterinarian.
Fraggle Facts
Marjory the Trash Heap shows her magical abilities here, appearing to Wembley and Gobo at Blue Rock and teleporting them home again.
The Beast of Blue Rock is not a physical creature but fear. As Marjory says: while the beast will return, with the help of friends it can be defeated -- as it was by Wembley and Gobo at Blue Rock.
Marjory also explains that she was the one who made up the rumor of the Beast of Blue Rock, expressing surprise that the old rumors kept Fraggles away for centuries.
Notes
Large Marvin, the fattest Fraggle in the world, debuts in this episode.
Supporting cast
Songs
Video releases
International episode titles
Community content is available under
CC-BY-SA
unless otherwise noted.