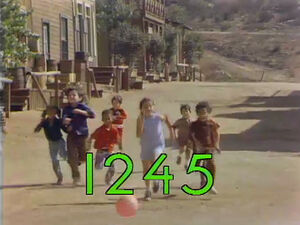 Picture
Segment
Description

COLD OPEN
10th Season Intro Still




SCENE 1
The Count has gotten up very early to count people as they start their day on the street. He finds he's gotten up a little too early and nobody is awake. The waiting causes him to doze off, just when the street begins to buzz with activity.

Cartoon
Big / bigger / biggest (bikes)

Muppets
Muppet lettuce, bread, cheese, butter, and ham argue on who an Anything Muppet girl should have for a snack. They all cooperate to make a sandwich.
(First: Episode 1204)

Song
"Look Around, Look Around", a song about seasons.
(First: Episode 0556)

Cartoon
A mad scientist (voiced by Daws Butler) teaches his monster how to say the words "Fred," "foot", and "Friday."
(First: Episode 1162)

Muppets
The Anything Muppets cheer about the letter F.
(First: Episode 0093)
Version 3

Cartoon
F - Face
Artist: Jeff Hale
(First: Episode 1162)

Film
Ten hats on a hatrack
(First: Episode 0439)

SCENE 2
Olivia is taking new ID photos for Bob. Big Bird wants to observe and stands next to Olivia. She doesn't want him so close, so he moves next to her on the other side. When she points out that she doesn't want him next to her, he goes and stands next to Bob.

Animation
Six spaceships are counted, then subtracted.

Film
The Mad Painter #6
(First: Episode 0335)

Muppets
Sesame Street News Flash: Kermit interviews Santa Claus, the Easter Bunny and a witch -- they are all confused about who they are and what holidays they belong in.
(First: Episode 0711)

Cartoon
A photographer shows off his first picture of cows, his next picture of ducks, and his last picture of a pig.

Song
"Rockabye Baby" is sung to a sleepy koala.
(First: Episode 0048)

Cartoon
E for elephant, eat, eagle, everybody, empty, and egg.
Voice: Casey Kasem
(First: Episode 0002)

SCENE 3
Mr. Snuffleupagus comes over to Big Bird's nest, where Big Bird comes up with a new game - he'll give Snuffy clues about a mystery item in the area and Snuffy has to guess what it is. The item is big, brown, furry and Big Bird's best friend - it's Snuffy!

Cartoon
Cloud blows things FFFFFFFF
(First: Episode 0387)

Muppets
The Anything Muppets cheer about the letter F.
(First: Episode 0094)

Song
Joe Raposo sings "J Jump."
(First: Episode 0131)

Cast
Gordon and Olivia try to cooperate under the sun, with voiceover from Bob.

Cartoon
A flea circus performs feats beginning with the letter F.
(First: Episode 0309)

Muppets
Ernie & Bert — Bert has acquired some drums, but he doesn't know how to play them well. Ernie teaches him how to make drum playing exciting.
(First: Episode 0579)

Transition
Bridge #17 - Hourglass Fast/Empty
(First: Episode 0288)




SCENE 4
Bob hears the sound of a puppy dog whimpering, which he finds odd, as he's not aware of anyone owning a dog on the street. He believes it's a trick by Oscar the Grouch, who denies the allegation. Bob keeps following the side and finds the source - a puppy dog was trapped in the low wall of 123 Sesame Street. Bob sees the dog is need of some food and care and takes him for something to eat.

Cartoon
A magician tries to make six circles disappear.
(First: Episode 0783)

Muppets
Caveman Days: EXIT sign
(First: Episode 0300)

Film
EXIT
(First: Episode 0935)

Cast
Maria as Charlie Chaplin tries to leave through the door marked EXIT, but the sign keeps moving, and a brick wall appears behind each opened door. Finally, she makes her own exit through a hole in the wall.
(First: Episode 0832)

Cartoon
F stands for flower, forest, fox, frog and fantastic.
(First: Episode 1102)

Song
"There's a Bird On Me" (Joe Raposo)
(First: Episode 0416)




SCENE 5
Bob takes care of the puppy and hasn't put much effort into finding its owner, having taken a shine to it. He, Olivia, Luis and others begin asking around, while Maria and a child return to the street, looking for the kid's lost puppy. They spot the dog, named Casey, from Maria's apartment and the child is happily reunited. Bob is disappointed at first, but recognizes how his good deed made someone else happy.

Muppets
Grover the Elevator Operator: Grover's elevator holds five people.
(First: Episode 0462)

Cartoon
E for Elephant & Elk, the nominees for best E animal.
(First: Episode 0486)

Film
You can clean almost anything.
Music: Bach's "Gavotte" performed by the Swingle Singers.
(First: Episode 0001)

Cartoon
A girl talks about imagination.
(First: Episode 0353)

Muppets
Two Anything Muppets sing "Me" in both English and Spanish.
(First: Episode 0372)

Cartoon
E for Erase
(First: Episode 0486)

Cartoon
Bridge # 3 - 4 Corner Bridge A
(First: Episode 0282)

SCENE 6
Bob considers getting a pet of his own and hears another series of dog barks. This turns out to be a cow impersonating a dog.