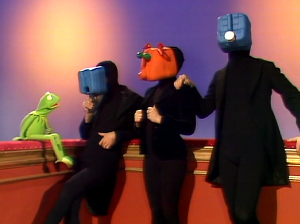 Miss Piggy is repulsed when Gonzo tells her that he loves her. Kermit tries to help by asking Piggy if she would like to go to dinner -- and when she accepts, he fixes her up with Gonzo. Everybody gets karate-chopped.
Songs/Sketches
Scooter and Floyd sing "Mr. Bassman."
Mummenschanz: Paper Faces
"The Blue Danube" at the Library
Mummenschanz: Three short skits
In the guest talk spot, Mummenschanz "talk" with Kermit -- the mouths of their masks open, and bubbles and ping-pong balls come out.
Mummenschanz: Clay Faces
Notes
This episode marks the debut of Gonzo's trademark, rushing rapidly through camera with a WHOOSH sound effect.
As the last episode of the first season, this was the last episode to feature John Lovelady and Eren Ozker as performers, and the last episode to be written and produced by Jack Burns.
On the DVD The Story of Mummenschanz, Bernie Schurz recalls that originally, Gina Lollobrigida was planned as a guest star for season one. When she cancelled, Jim Henson suggested Mummenschanz, whose performance he had seen in Geneva.
Edits
On Nickelodeon, Wayne & Wanda's song "It's Only a Paper Moon" and Muppet News Flash were both cut.
Cast
Muppets:
Background Muppets:
Performers
Community content is available under
CC-BY-SA
unless otherwise noted.