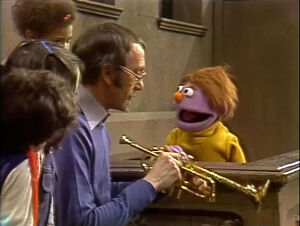 Picture
Segment
Description

COLD OPEN
10th Season Intro Still

SCENE 1
Gordon heads over to Hooper's Store for breakfast, feeling tired of making his own. Nobody appears to be around, until hears a voice from behind the counter. Lefty, the new short order cook, introduces himself and takes Gordon's order. However, he's so short that he can't reach the stove, toaster or anything else, thus Gordon essentially prepares the whole meal.

Cartoon
Christopher Clumsy demonstrates the things feet can do.
Artist: Cliff Roberts
(First: Episode 0455)

Muppets
Ernie wants to borrow Herbert Birdsfoot's vacuum cleaner, but he worries about how Herbert will respond. Maybe Herbert's taking a bath, and he'll be so angry at Ernie for interrupting him that he'll tell everyone to never loan Ernie anything ever again!
(First: Episode 0181)

Cartoon
A yak discusses the letter "Y" on a stage, and is insulted when it is called a "Yakkity-yakkity-yak".
(First: Episode 0301)

Film
Body parts song sung in Spanish.
(First: Episode 1113)

Cartoon
The life of a Yellow Yahoo
(First: Episode 0043)

Film
A bald eagle flies over houses, a beach, and other locations.
Music: Joe Raposo
(First: Episode 0411)

Muppets
Two Anything Muppets (Frank Oz and Jerry Nelson) use a tape measure to figure out how far apart they are from each other. It turns out that thirty-seven feet separate them.
(First: Episode 0905)

Video
Scanimate kids intro
(First: Episode 0798)

SCENE 2
Gordon and the kids count different things of three, then put together a puzzle of the number 3.

Cartoon
Four people cooperate building a table.
(First: Episode 0537)

Muppets
Three monsters (Billy, Fenwick, and Pamela) demonstrate big, bigger, and biggest.
(First: Episode 0474)

Cartoon
Big, bigger, biggest (strongmen)
(First: Episode 0792)

Cast
Olivia sings "Everything Grows."
(First: Episode 1106)

Cartoon
Various renderings of the word DANGER.
Artists: The Hubleys
(First: Episode 0151)

Film
An Hispanic boy gets up, gets dressed, and goes to school as Spanish music plays (A la luna no voy yo).
(First: Episode 0429)

Muppets
Grover reads a sign that says DANGER and looks around for said danger. He doesn't find it anywhere until he trips and falls on the sign.
(First: Episode 0182)

Celebrity
The Canadian Brass performs "Little Fugue in G Minor" on the steps in the arbor.

Cartoon
The Typewriter: Y for Yo-Yo
(First: Episode 0769)

Film
Kids watch a silent movie with a man resting on the train tracks with an oncoming trolley - DANGER!
(First: Episode 0480)

Animation
Sand Y/y
(First: Episode 0626)

Muppets
Sesame Street News Flash: The miller's daughter is in danger of losing her baby if she cannot guess the first name of Rumpelstiltskin. Kermit offers a hotline, Sesame Street-555, for people to call in and help her. The name ends up being Bruce Rumpelstiltskin, but unfortunately for Kermit, he picked the wrong place to hide: the baby's carriage!
(First: Episode 0724)

Celebrity
Fred Mills, of the Canadian Brass, tries to talk to the kids about the trumpet, but Eugene says all that can be said first.

Muppets
Lefty's boss tells Lefty the plan for what to do with the Golden AN, which they have just stolen. Lefty is to put it in the tan van and give it to Dan, who will take it to Fran. However, Lefty can't remember the plan very well and has to repeat it, which results in a police officer named Stan hearing the plan and giving him "ten days in the can for stealing the Golden AN."
(First: Episode 0523)

Cartoon
A farmer plants big, bigger and biggest trees.
Artist: Cliff Roberts
(First: Episode 0284)

Film
Knock knock. Who's there? The woodpecker!
(First: Episode 0437)

Cartoon
Y for Yak
Artist: Jeff Hale
(First: Episode 1184)

Song
"Three is My Favorite Number"
(First: Episode 0429)

Muppets
Anything Muppets sing "How Do You Get From Here to There?"
(First: Episode 0374)

Cartoon
S is for subway, sailboat, sled, scooter, skates, skis, and stop.
Artists: The Hubleys
(First: Episode 0279)

Insert
Bob and Jason discuss body parts.
(First: Episode 1109)

Film
African kids play at various activities, including a game with stones.
(First: Episode 0136)

Cartoon
Pinball Number Count #3
Animation by Jeff Hale
(First: Episode 0978)

Film
Stacy gets an examination at the eye doctor's and receives a new pair of glasses.
(First: Episode 1129)

SCENE 3
Maria observes today's Grouchketeer meeting, where Oscar sets up an educational lesson on making mud. Maria doesn't think the kids will learn anything from that, until she sees that they're making the word "MUD." Oscar offers her a souvenir mud pie to take with her. She guesses this will also be a word and accepts the offer, when the kids plop an actual mud pie in her palms.

Cartoon
S for sing
(First: Episode 0824)

Muppets
Here is Your Life: A loaf of bread is profiled.
(First: Episode 0709)

Cartoon
Three men in a horse costume want three cups of coffee.
(EKA: Episode 0592)

Film
Alone Song
(First: Episode 0921)

SCENE 4
Oscar and the kids make more mud pies.
Community content is available under
CC-BY-SA
unless otherwise noted.