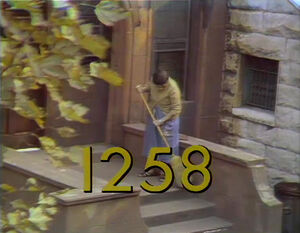 Picture
Segment
Description

COLD OPEN
10th Season Intro Still




SCENE 1
Mr. Ortiz pays a visit to the street, having just bought some paint from a nearby store. He mentions that he's painting his apartment today and everyone jumps at the chance to help out. The affair quickly turns into a "painting party." Big Bird is eager to participate, and Mr. Ortiz jokes that he can paint the ceilings.

Cartoon
"Poverty Z" -- A figure tries to sell a Z. His only customer stops him by locking him inside a zoo cage.
Artist: Cliff Roberts
(First: Episode 0085)

Muppets
Zs come out of Herry Monster's mouth as he snores. (part one)
(First: Episode 0281)

Cartoon
Z for zipper
(First: Episode 0025)

Film
Iguanas
Music: Joe Raposo
(First: Episode 0047)

Video
Scanimate kids intro
(First: Episode 0798)

SCENE 2
Big Bird joins Bob and the kids as they use imaginary paint to paint a chair. Big Bird then sits down on it and finds imaginary wet paint all over his tail feathers.

Cartoon
"Ten Turtles"
Artist: Bud Luckey
(First: Episode 0425)

Muppets
Muppet & Kid Moment — Kermit and Tracy count to 10.
(First: Episode 0120)

Film
A girl gets on, in, and under a blanket in a park.
(First: Episode 0406)

Muppets
Old West: Five good men are needed to form a posse and catch Bad Bart, the meanest man in the West. The sheriff counts five men in the saloon, and tries to organize them. But it turns out that there are only four good men -- one of them is Bad Bart!
(First: Episode 0554)

Cartoon
Ten little Greeblies (bug-like creatures) keep getting separated from their group, teaching a lesson in counting backward.
(First: Episode 0006)




SCENE 3
Everyone has just about finished painting Mr. Ortiz's living room. They take a break and Mr. Hooper shows off the various snacks and treats he's brought with him, including a bag of candy. Mr. Ortiz is reminded of the parties in his youth, which often had a piñata. They all agree to take up this tradition and use the candy bag as a makeshift piñata. Luis holds it in the air, while a kid is blindfolded with a painting rag and uses a rolled up newspaper as a stick.

Cartoon
Kids narrate a Letter 'Z' Drawing
(First: Episode 0359)

Film
The crosswalk light says WALK.
(First: Episode 0926)

Animation
Sand Z/z
(First: Episode 0639)

Cast
Linda helps a boy sign "DON'T WALK."
(First: Episode 1061)

Cartoon
Junior has to jump across the pond to make the frog chorus.
(First: Episode 0926)

Film
"I Am a Letter" - Vocalists sing a song describing the process of how mail is sent. (re-edited with a new song track)
(First: Episode 0143)

Muppets
Cookie Monster comes to the bakery looking for something delicious that rhymes with BUY. He tries the I (from the MIKE'S BAKERY sign) and the baker's TIE, both of which aren't that delicious. Finally, Guy Smiley comes in and loudly announces that he would like to BUY a PIE. Cookie then knows what he can get in the bakery that rhymes with BUY and is delicious: it's GUY! A chase ensues, and Cookie requests for the baker to send him the bill.
(First: Episode 0481)

Cartoon
Cat / fat / hat / sat / rat / bat / scat / splat / flat / pat
(First: Episode 0770)




SCENE 4
As Maria goes to get more fruit for the gang, Oscar shows off his new Spanish vocabulary from his "Spanish for Grouches" book. After reading one phrase ("Me tienes loco!"), Maria responds with a kiss. Although the phrase means she's driving him crazy, she points out it's also colloquially used to say, "I'm crazy about you!"

Cartoon
The Typewriter: Z for Zoo
(First: Episode 0776)

Film
Footage of birds swimming, including flamingos, swans and ducks.
(First: Episode 0981)

Muppets
Pageant: Ernie plays the role of Bart, a farm boy who plants a flower. Herry Monster plays the sun, and a nervous Cookie Monster plays a cloud. Bert reluctantly plays the flower. When it is said that Bert made the leaves for his costume out of lettuce leaves, Cookie and Herry proceed to eat the leaves and rip the costume apart.
(First: Episode 0578)

Cartoon
A girl counts her 5 cats using ribbon to keep track.
(First: Episode 1001)

Muppets
News anchorman Kermit concludes his news program with a weather report by their new news anchor, Simon Soundman, who does a weather report using sounds for different kinds of weather (wind blowing, a foghorn for fog, and rain and thunder for a rainstorm,). Kermit fires him and calls for another weatherman, who has a more "visual" approach to reporting it.
(First: Episode 0631)

Cartoon
A derby-hatted man identifies animal sounds, ending with a tractor.
(First: Episode 0839)

Cast
David and Olivia sing "It Feels Good When You Sing a Song."
(First: Episode 1176)

Cartoon
The letter "k" walks away from the word "walk."
(First: Episode 0758)

Film
A trip to the chewing gum factory
(First: Episode 0498)

Song
Luis sings "Three of These Things" with three kids with umbrellas and one unlucky kid without one.
(First: Episode 0449)

Song
Joe Raposo sings "Somebody Come and Play."
(First: Episode 0047)

Cartoon
Speech Balloon: U-Umbrella
(First: Episode 0038)

SCENE 5
The painting is all done. Maria and Luis share a dance together and Mr. Ortiz suggests Mr. Hooper now dance with her. He's unsure of himself at first, but after a little while, he gets into the swing of things.

Cartoon
Capital letter U for up
(First: Episode 0416)

Muppets
Ernie & Bert — Ernie has gone shopping -- buying bread for himself, and peanut butter for Bert. They realize that it's dull to eat what they have separately, and they decide to cooperate, so they can each have a peanut butter sandwich.
(First: Episode 0279)

Cartoon
U for Ugly: A man removes his mask, revealing a hideous monster face.
(First: Episode 0468)

Celebrity
Whitman Mayo recites the alphabet.
(First: Episode 0886)

Cartoon
A U train spells the words "unite," "U-turn," "underground," "up," and "universe."
(First: Episode 0624)

Film
Jerry Nelson counts 20 backflips performed by a monkey.
(First: Episode 0217)

Cartoon
A man tries to get to sleep, but is woken up by a fly, a chicken and a drum-playing rabbit, all of whom call him on the phone after he throws them out.
Artists: The Hubleys
(First: Episode 0257)

Film
Kids dancing.
(First: Episode 0409)

SCENE 6
As an upbeat version of the "Sesame Street Theme" plays, everyone returns to the street. Mr. Hooper has caught the dancing fever, unwilling to let Maria go as he dances down the block. Luis announces the sponsors in Spanish.
Community content is available under
CC-BY-SA
unless otherwise noted.