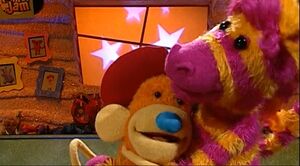 Waffle wants to give his mother a great hug. He and Edi teach about hugging (Waffle is especially proud of his "Most Amazin' Pleasin' Mondo Lovin' Super Hug"). They talk about the appropriate times to hug, and the DJs play songs about hugging. Waffle also demonstrated a number of different hugging techniques, including "The Spaghetti Hug," "The Alien Birthday Hug," and "The Octopus on a Unicycle Hug." He gets so worked up in his presentation that he ties himself into knots. Edi suggests that Waffle concern himself less with how he hugs and more with the feelings that are attached.
Bozark comes out to perform Bozark Huggin'.
Songs
A Hug a Day
Bozark Huggin'
Video releases
Community content is available under
CC-BY-SA
unless otherwise noted.