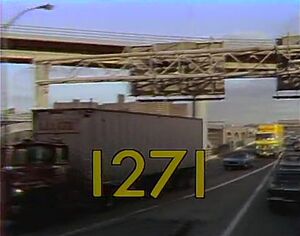 Picture
Segment
Description

COLD OPEN
10th Season Intro Still

SCENE 1
Mr. Hooper alerts everyone that the President of the United States is going to be detouring through Sesame Street today. While everyone cleans up the messy street, Big Bird decides to write a poem for the President.

Cartoon
Vaudeville duo Herman Happy and Stanley Sad sing a song about how they live up to their names.
(First: Episode 0772)

Muppets
Ernie & Bert — Ernie returns home from Camp Winnewonga, to Bert's surprise. Ernie shows Bert all the things he brought back from camp, such as some rocks and a paper clip.
(First: Episode 1048)

Cartoon
A man demonstrates up and down.
Artist: Al Jarnow
(First: Episode 0276)

Celebrity
Victor Borge demonstrates high and low notes.
(First: Episode 1186)

Animation
Three little people climb up the three flower stems.
Artist: Etienne Delessert
(First: Episode 0634)

Film
A baby chick hatches from an egg. (Music: Joe Raposo)
(EKA: Episode 0716)

Cartoon
A man finds an OPEN, and opens it. The people inside ask him to close the OPEN.
(First: Episode 0512)




SCENE 2
Big Bird shows Olivia his new welcome mat for the President, and they both sing "Walkin' Down My Street".

Cartoon
C is for Cat
Artist: Bud Luckey
(First: Episode 1141)

Film
Traffic lights
(First: Episode 0131)

Cartoon
C for canary (role reversal)
(First: Episode 0703)

Muppets
Sesame Street News Flash: The Elves and the Shoemaker
"Hello, this is Green Frog calling CTW central. Do you read me?"
Kermit interviews the elves, who give The Shoemaker various gifts that are not shoes, but rather things that rhyme with "shoe."
(First: Episode 1249)

Cartoon
Pinball #10
Artist: Jeff Hale
(First: Episode 0990)

Film
A boy makes fruit salad.
(First: Episode 1195)

Cartoon
Abierto: Ali Baba arrives a bit late and gets run over by the 40 thieves leaving.
(First: Episode 0467)

Muppets
Grover asks The Amazing Mumford if he could make his carrot disappear, provided that some smoke appears. Mumford performs the trick and Grover is impressed by the puff of smoke, however he fails to notice Mumford chomping on his carrot. When Grover asks Mumford to make the carrot reappear, he replies that he can't because he ate it ("You didn't say anything about magic!").
(First: Episode 1210)

Cartoon
A disobedient jacket illustrating words that begin with the letter J annoys an off-screen narrator, which reveals two kids named Jenny and Jeff inside of it.
(First: Episode 0527)

SCENE 3
Oscar displays his outdated flag, and demonstrates his 11-gun salute ("Why 11? He only got 53% of the vote!"). The last shot propels him into the air.

Cartoon
A baby bird falls from a tree. A boy puts him back, and in return, the mother bird saves the boy from embarrassment.
(First: Episode 0550)

Muppets
Muppet lettuce, bread, cheese, butter, and ham argue on who an Anything Muppet girl should have for a snack. They all cooperate to make a sandwich.
(First: Episode 1204)

Film
Body Parts vs. Heavy Equipment: Three boys (including Brian Henson) pretend to be steam shovels, playing in the dirt. This segues into footage of real construction vehicles. A parallel is drawn between the machinery and how the boys' arms and mouths work.
(First: Episode 0003)

Cartoon
J family jamboree
(First: Episode 0365)

Celebrity
Whitman Mayo tries to display the concept of UP, but soon discovers that he can't stay up in the air when he jumps. However, a group of kids can jump and stay up in the air (with the help of video trickery).
(First: Episode 1162)

Song
Joe Raposo sings George Gershwin's "Funny Face."
(First: Episode 0006)




SCENE 4
Sesame Street is now decorated with signs and banners welcoming the President. Everyone keeps an eye out for the prez, and watch a bus go by, then Mr. Macintosh. When the President finally does pass with his motorcade, Big Bird fails to notice while reading his poem.

Cartoon
"The J Commercial:" Two boys scrutinize a J, saying it looks like a fish-hook. A resonant voice (Gary Owens) informs them that it's the letter J. This leads to a jazzy story about Joe. Moral: "Don't jive a judge by jamming a junebug."
Studio: Ken Snyder; Director: Fred Calvert
(First: Episode 0009)

Muppets
"J Friends"
(First: Episode 0339)

Cartoon
The 'J' Train
(First: Episode 1169)

Film
A girl and her mother go on a journey to find out where potatoes come from.
(First: Episode 0984)

Cartoon
A ship captain orders the numbers 1-20 into a boat - which promptly sinks.
(First: Episode 0614)

Muppets
Monsterpiece Theater: Upstairs, Downstairs
(First: Episode 1162)

Film
The Fabulous Four Flying Flatirons, a group of trapeze artists, demonstrate up and down. (edited)
(First: Episode 1039)

Cartoon
Ten Turtles
Artist: Bud Luckey
(First: Episode 0425)

Film
George the Farmer uses barrels to count to ten.
(First: Episode 0293)

Cartoon
Dot Bridge #1: Dots appear uniformly
(First: Episode 0001)

SCENE 5
Big Bird reads a letter he just wrote to the President, asking for him to ride down Sesame Street every day just so that everyone will be motivated to keep their street clean. Maria announces the sponsors.




CLOSING SIGNS
Kermit and a Kid hold up the Sesame Street sign, while Maria holds up the CTW sign at the end.
Community content is available under
CC-BY-SA
unless otherwise noted.