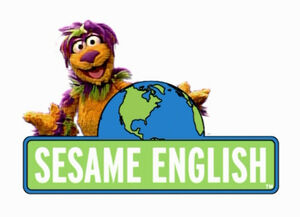 Picture
Segment
Description

SCENE 1
Tingo and Niki are planting flowers in the backyard garden. Tingo sings an upbeat tune as he digs, unaware he's covered Niki in dirt. She goes inside to get the seeds...and wash her hair.

Animation
Characters on a quilt form the letter W.
Artist: Karen Aqua

Film
Jaws spoof with the letter W. (new narration added)

SCENE 2
Niki brings out their seeds. She meticulously plants each one, while Tingo dumps all his down his enormous hole. Niki goes to get the watering can.

Film
Water montage (uses footage from "Hot in the City" and "Drink of Water")

Animation
W for water, wind, wave and wet

SCENE 3
Niki returns with the watering can and gives her seeds some nourishment. Tingo has his own way of watering the garden - using his pet elephant Dinky, who sprays Niki with water by accident.

Film
Some kids talk about a garden they have in the middle of the city. (edited, new narration added)

Cast
The Adventures of Pete and Joe
The two monsters debate where to set their table.

Muppets
"ABC Disco" (edited, on-screen letters added)

SCENE 4
Niki and Tingo check on their flowers. Niki's have grown modestly, while Tingo has produced a whole, beautiful batch. He begins advising her on his flower-growing methods.