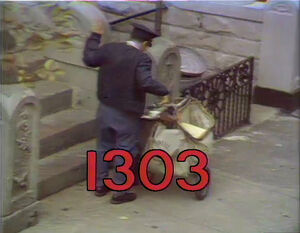 Picture
Segment
Description

COLD OPEN
10th Season Intro Still

SCENE 1
Big Bird sings "If I Could Fly."

Muppets
Ernie plays a game of "Touch Your Face" with the viewer.
(First: Episode 0869)

Cartoon
The man is only afraid of one thing: FEAR.
(First: Episode 0816)

Film
Several people help a man when his car is stuck in the mud.
(First: Episode 0619)

Cartoon
"Martian Beauty" has nine hairs, nine bows, nine eyes, nine nostrils, nine arms, and nine toes.
Artist: Bud Luckey
(First: Episode 0316)

Muppets
Grover demonstrates how a phone booth is used, but it becomes crowded when he receives a call asking for "Mondipoorg."
(First: Episode 0654)

Cartoon
Sign Cartoons: MONEY
(First: Episode 1185)

Video
Scanimate kids intro
(First: Episode 0798)

SCENE 2
Big Bird and Frank talk about the letter H.

Cartoon
A big elephant and a small elephant make lowercase Hs come out of their trunks.
Artist: John and Faith Hubley
(First: Episode 0162)

Cast
Bob, Linda and Luis assemble a lowercase h.
(First: Episode 1056)

Cartoon
The Typewriter: H for Hand
Artist: Jeff Hale
(First: Episode 0771)

Film
Kids count ten buses as they drive by.
Music: Joe Raposo
(First: Episode 0406)

Cartoon
H is for horseshoe.
(First: Episode 0020)

Film
Apes play at the zoo. (edited)
(First: Episode 0045)

Cartoon
Two boys peek into a fire house, and write HAT, HOSE, and HOOK on the window using their breath. Two dogs come by and wonder what a HAT HOSE HOOK is, but their question is answered when the fire truck leaves the station.
Artist: Paul Fierlinger
(First: Episode 1204)




Film
Two glasses are filled with fluid, but one glass overflows as a hand keeps pouring into it. The same thing happens using salt shakers and bowls of nuts. Finally, the glasses are filled again, only one glass barely fills up as fluid is poured into it. The camera pulls out, revealing the glass is filling into another one below, which overflows as before.
(First: Episode 0576)

Cartoon
Consonant Sound Limerick: H - Horse
(First: Episode 1167)

Muppets
The Amazing Mumford waves his magic wand over a transparent glass cookie jar and makes the jar become full of cookies and then empty (over and over) as an anxious Cookie Monster watches.
(First: Episode 0287)

SCENE 3
Cody joins Big Bird now for a similar discussion on the letter N.

Cartoon / Film
Things that begin with N: nail, nest, net, notebook, needle, noodle, nuts, napkins, nose. (Don't make noise at night). The letter N is nice.
(First: Episode 0659)

Cartoon
SALIDA (train)
(First: Episode 0537)

Muppets
Grover and his band sing "I Am Not Afraid," as his bandmates are frightened away by a monster.
(First: Episode 1004)

Cartoon
An N-terview with an N
(First: Episode 0131)

Celebrity
Bill Cosby plays twins who recite the alphabet together.
(First: Episode 0131)

Cartoon
King Minus and the Disappearing Dragons
(First: Episode 0345)

Insert
After watching the King Minus cartoon, Cookie Monster tells Big Bird how great it would be if everything he touched turned into cookies. He imagines a scenario where he holds this power, but he panics when he turns Susan and Bob into a pile of cookies. Big Bird and David rouse him back to reality where he begins to realize his imagination had run away with him... until Susan presents him with a plate of cookies where Big Bird had been standing.
(First: Episode 0748)




Cartoon
The Fox and the Grapes
In the classic fable, a famished fox can't reach the grapes, and eventually gives up, assuming they're sour anyway.
(First: Episode 0784)

Film
Kids count 18 backflips.
Music: Joe Raposo
(First: Episode 0408)

Muppets
Three Anything Muppets (including George) individually try to sell lemons, water, and sugar. After all of their businesses fail, the three cooperate to start a lemonade stand.
(First: Episode 0335)

SCENE 4
Buffy talks with a kid about the importance of brushing one's teeth and she sings a song about it.

Cartoon
A boy passes by various signs before reaching the SALIDA.
(First: Episode 0500)

Animation
A man plays a memory game using cards.
(First: Episode 1232)

Muppets
Ernie & Bert — Ernie comes from finishing his bath, and tells Bert that there's something that he forgot. Bert asks if he's washed behind his ears, his neck, and his elbows. Finally, Ernie remembers that he forgot to turn off the water in the tub -- as the water level rises.
(First: Episode 0347)

Cartoon
A guru counts to twenty. (Spanish version)
(First: Episode 0276)

Song
Joe Raposo sings "Flies on Animals" over footage of animals bugged by pests.
(First: Episode 0449)

Transition
Bridge #17 - Hourglass Fast/Empty
(EKA: Episode 0327)

SCENE 5
At the Fix-It Shop, Maria sorts various items into shoeboxes, but is starting to run out. Big Bird offers to help and takes one of the boxes into the store so he knows what to look for. He finds several other shoeboxes on the shelves that are the same shape and size, but are all different colors with different text. Big Bird thinks he's screwed up, but Maria assures him she doesn't care how they look as long as they're the right size. She then sends him to help out David instead.

Cartoon
"Five Bears in the Bed" get subtracted as they fall off the bed.
(First: Episode 1231)

Film
The snouts, tails and bodies of pigs, with a soundtrack of pigs squealing.
(First: Episode 0179)

Cartoon
The story of an old woman who lived in a nine.
Artist: Bud Luckey
(First: Episode 0512)

Film
The celebration of Chinese New Year
(First: Episode 0495)

SCENE 6
Big Bird returns, having apparently annoyed David enough that he's sent him back to Maria. She tries her best to keep him away from her boxes as Buffy announces the sponsors.
Community content is available under
CC-BY-SA
unless otherwise noted.