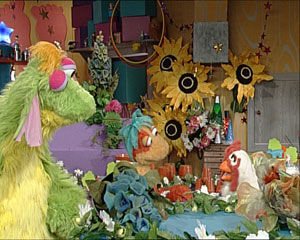 Mopatop opens the episode by offering a giant shoe, a pig that's blue or King Gnu.
Mr. Warthog enters the shop to return some flowers that he bought. They were supposed to say "Thank you, mom," but instead they say, "Happy birthday, Gordon". Puppyduck finds a new flower for him.
Mrs. Chicken also wants to return a flower. It was supposed to say happy birthday to her husband, Gordon, but instead it says, "Thank you, mom." So it's a good thing that the correct flower had just been returned by Mr. Warthog. Although the customers get a flower they like, another flower, Thistle, feels overlooked and talks to Moosey Mouse about it.
The last customer for the day is Gloop. He wants to say something to someone very special but he can't find the words for it. He would like a flower to do it for him, and Thistle seems to be a good choice for him.
Performers