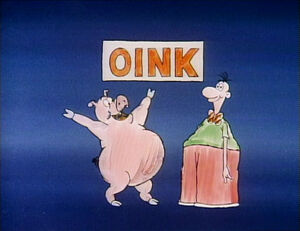 Film: African animals, such as elephants, gazelles and zebras
Children get together and make a play area.
Cartoon: A large bird munches on rectangle edges, making it the word "BIRD." (EKA: Episode 1190)
Cartoon: Animals exchange body parts.
Children confuse a tomato for an apple.
Children confuse a red pepper for a beet.
Ernie thinks that he isn't special. Bert tells Ernie to feel his nose -- "That's an Ernie nose!" -- and then feel his hair, and wiggle his fingers. Bert says that nobody else is just like Ernie. Encouraged, Ernie tells the audience to do the same. (First: Episode 0276)