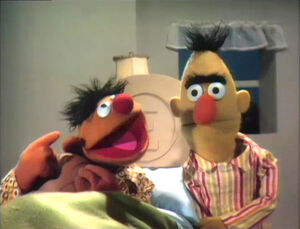 Ernie comes up with a way for him to remember to put his basketball away before he goes to sleep: he remembers things with his brain, which is in his head; his head is round, and so is the basketball. His plan works the first time, but not when Bert wants to go to sleep. (First: Episode 0134)
Cartoon: A Boy and a Cart -- A boy and father think of how to make a cart. (EKA: Episode 0231)
Oscar washes his laundry with prune juice.
Cartoon: At night, a group of mice are scared of a monster in the woods. They describe its features until the feared monster looks like an elephant - who is more scared of the mice. (EKA: Episode 0814)
Linda uses signs to tell the story of "The Spider and the Fly."
While Linda signs, Bob sings "If You Couldn't Hear."