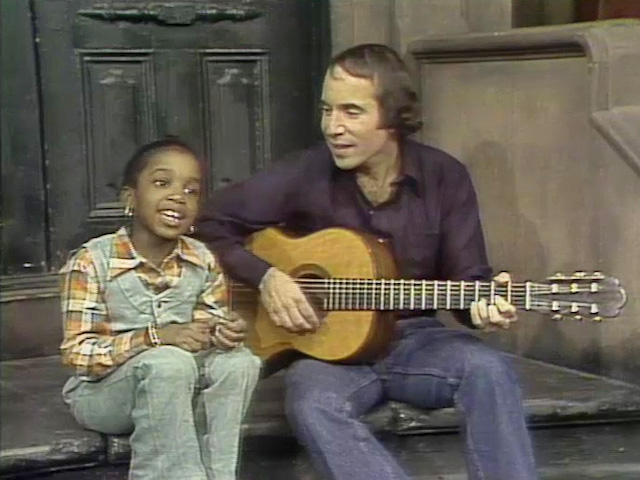 Cartoon: A rooster finds a purpose in his life when he's given the job to wake everyone on a farm.
Film: A mailman on horseback delivers mail in the Appalachian mountains of Kentucky. (EKA: Episode 0666)
Cody plays the drums while Buffy sings a song.
Guy Smiley (then named Sonny Friendly) hosts the "Pick Your Pet" game show. The contestant, Lucy Jones, is blindfolded and has to choose between a bird, a dog, and a monster (while trying to figure out what kinds of pets they are). Lucy asks them questions that would relate to a cat. Her time runs out before she can ask the Beautiful Day Monster any questions. She chooses the Beautiful Day Monster. The monster acts like a cat, so Lucy is happy with her pet. (First: Episode 0067)
A man feels better after visiting the doctor.
Ernie makes a clay bust of Bert, but runs out of clay for the nose, so he pulls Bert's nose off and puts it on the statue. (EKA: Episode 0677)
Film: Two boys each have five cents--one has five pennies, one has a nickel. They see a dime along the way, which is worth ten. They ask the man at the store for change for the dime, and he gives them a nickel and five pennies. They spend their pennies, but then they want to buy an ice cream for ten cents and the machine only takes dimes. They give the store man their nickels in exchange for a dime and they share a fudgesicle. (First: Episode 0132)
Film: In rhyme, a man points out animals who stole and/or ruined his clothing. (EKA: Episode 0971)