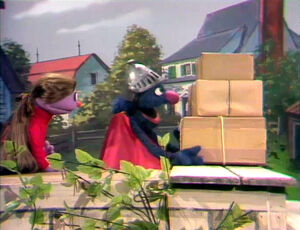 Big Bird doesn't like waiting on line, so he imagines what it's like to be first in line.
Super Grover: Janet Fringle needs help carrying many boxes. Super Grover suggests gluing them together, but the girl eventually figures out that taking them one at a time will work. (EKA: Episode 0980)
Song: "You Always Come Through for Me, Sweetheart"
A child collects eggs from chickens.
The Martians discover a radio. They tune into three different styles of music, none of which they like. Then they tune into some static, which they start joyfully dancing to. (EKA: Episode 1329)