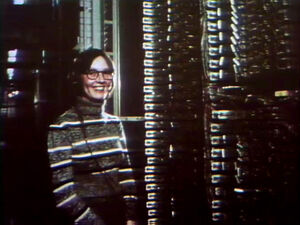 Cookie Monster goes to the bakery for a special birthday cookie. The baker lists all the ingredients of the cookie, as Cookie visualizes it. The visualized image looks so delicious that he eats it. (EKA: Episode 0428)
Big Bird explains how to play the "Statues" game.
Ernie tries to put a pot on Bert's head. Bert asks Ernie why he's doing that, and Ernie says that he broke a cookie jar. Ernie has to put the cookies somewhere, so he put them in the sugar bowl – and put the sugar in the flowerpot, which meant that he had to put the flower in a milk bottle. He put the milk in the soda bottle, the soda into the fishbowl, and the fish in Bert's cowboy hat. Bert asks, "Now what am I going to wear when I want to play cowboy?" Ernie puts the pot on Bert's head and says, "Ride 'em, cowboy, Bert!" (First: Episode 0279)
A boy spills his milk, but tells his mother that a gorilla did it.
Cartoon: A derby-hatted man identifies animal sounds, ending with a tractor. (EKA: Episode 1128)
Film: Footage of an animal auction, where they auction off animals to dairy farmers and the like. (EKA: Episode 1009)
Big Bird shows Barkley how birds sleep.