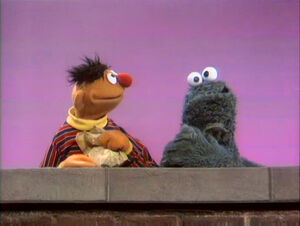 Olivia sets up her own, personal darkroom so she can develop her photographs.
Cartoon: What if an anteater had the features of a giraffe? (EKA: Episode 0837)
Ernie and Cookie Monster discuss hope. Ernie has something in a brown paper bag, and asks Cookie Monster what he hopes it is. Cookie Monster hopes that it is a cookie. It turns out that Ernie has ten cookies in the bag. (EKA: Episode 0233)
Everyone helps Olivia set up her darkroom.
One hand helps another twist the lid off a jar.
Olivia demonstrates how to print a negative of a picture.
Two hands tie a shoelace.
Children play ball in a field.
Buffy shows a group of children some old Indian drawings.
One hand helps another take off a ring.
Animation: Three striped balls encounter a polka-dotted ball. (EKA: Episode 0932)
A child sets the table for a snack.