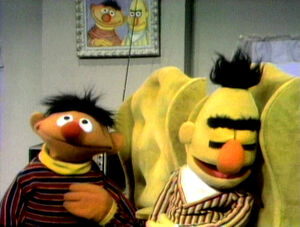 A monster orders a chocolate-vanilla egg cream.
Ernie comes home to a sleeping Bert and tries to think of things to do that won't wake him up. He can't watch TV, and he can't play with his ball. Bored, he decides to take a nap too -- but then he starts to snore. This awakens Bert, who wonders out loud where the noise is coming from, in the process arousing Ernie, who gets mad at being woken up. (First: Episode 0280)
Film: A boy visits the hospital to see his mother's new baby. (EKA: Episode 1125)
Maria asks everyone to pretend that they're visiting her on her fire escape.