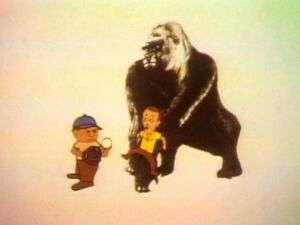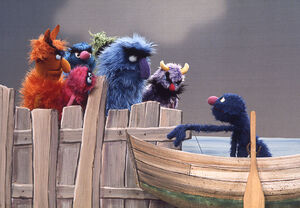 Big Bird asks his friends to imagine that they are as big as he is.
Bert tells Ernie not to eat cookies in bed, because he might get crumbs in the bed. Ernie decides to eat cookies in Bert's bed instead. (First: Episode 0282)
Animation: The word ICE is formed with ice cubes, which melt. (EKA: Episode 1283)
Cartoon: A large bird munches on rectangle edges, making it the word "BIRD." (EKA: Episode 1190)
In this three-part sketch, Grover and a group of monsters, including Herry Monster, Fenwick and Billy, get into a rowboat. In part one, the monsters all gather at one end, causing the boat to tip over. In part two, they gather on the other end, and the boat tips over again. In part three, the monsters spread out over the boat evenly, and they row away. (EKA: Episode 0425)
Dr. Oscar concocts his own, special Grouch potion.
Ernie is sad, because it's raining and he can't play baseball. Bert encourages him to imagine that he's playing instead. In Ernie's imagination, he hits a high fly ball that lands in the ocean. Bert tells Ernie that the sun is out, and he can go out and play now. Ernie says that he can't play -- his ball fell in the ocean. (EKA: Episode 0678)
Dr. Oscar's potion doesn't work.