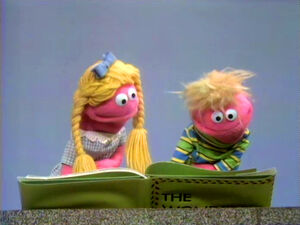 Cartoon: Two cowboys realize a town is not big enough for both of them. (EKA: Episode 1116)
Two Muppet children, who can only read some words, resolve their fight over a large book by helping each other and reading alternate words. (EKA: Episode 0297)
A man finds out the difference between eye glasses and drinking glasses.
Cartoon: A kid tries to push his toy house through the front door without the door closing. (EKA: Episode 0926)
Film: Stacy gets an examination at the eye doctor's and receives a new pair of glasses. (EKA: Episode 1337)
Cartoon: Two men on a park bench turn their radios up louder and louder, each trying to drown the other's out, until they reach a station they can agree on. (EKA: Episode 0796)
Cartoon: Two dots play hide-and-seek amongst different shaped blocks. (EKA: Episode 0833)
The Two-Headed Monster finds a piano and decides to play it. The left half wants to play short notes, while the other half prefers to run his fingers across the keyboard. They decide to cooperate, and both use their notes to play "Chopsticks."