Sesame English
Plot
Niki runs for class president
Writer
Billy Aronson
Director
Rick Fernandes & Greg Lehane
Sponsors
H
Releases
Friends 2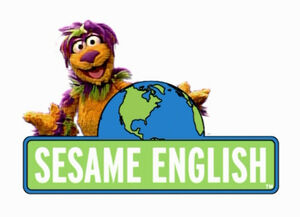 Picture
Segment
Description

SCENE 1
Niki is having trouble getting ready for school because she is nervous. She's running for class president and has to give a speech to the school. Tingo tells her she needs to slow down, but then realizes they will be late for school and tells her to hurry up.

Song
I Love My School - Students sing along throughout the day about how much they love their school.

SCENE 2
Niki practices her speech for Tingo. She reads it so fast he can't understand her and tells her to slow down. But then she goes frustratingly slow and he tells her to speed up.

Song
The opera singers find themselves being followed by a gorilla. They run faster and faster to get away. Zookeeper Frank arrives and tells them that they should instead go slow and they all encourage the gorilla to go back to the zoo slowly.
(First: Episode 115: The Fugitive)

Muppets
Muppet & Kid Moments: Grover asks Zelda if she knows the difference between "fast" and "slow". She doesn't, so Grover demonstrates.

SCENE 3
Tingo states that when he is nervous he hops. He starts chanting "Hop, hop, hop. Don't stop." Niki starts hopping along. But it seems to have worked too well.

Cartoon
Falling leaves form H and h.

Song
Soul H!

SCENE 4
Niki is so delighted that she won the election. Then Tingo reminds her about all the expectations, and she gets nervous. So she begins hopping again.
Releases
Community content is available under
CC-BY-SA
unless otherwise noted.