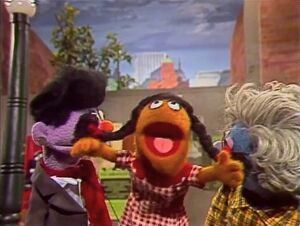 Cartoon: Little Andy is confused why everyone's noses turn pink when they encounter him, when he realizes he needs to take a bath.
Cartoon: A man plays various letters of the alphabet as instruments. (EKA: Episode 1348)
Film: A dented car door is repaired and re-painted at an auto body shop. (EKA: Episode 1150)
Anything Muppet cheerleaders sound out the word "rocket," then witness a rocket blasting off. (EKA: Episode 1092)
Cartoon: In rhyme, a man points out animals who stole and/or ruined his clothing. (EKA: Episode 0971)
Big Bird builds a Hawaiian setting on Sesame Street for Mr. Snuffleupagus.
Big Bird's Hawaiian setting disappears.
Film: Several people help a man when his car is stuck in the mud. (EKA: Episode 0854)
Mr. Snuffleupagus wants to come to Hawaii with Big Bird, but he can't figure out how to get there.