Sesame Street
Plot
Maria and David try to help Big Bird win a free trip to Hawaii
repeat of 1079
Air date
February 27, 1980
Season
Season 11 (1979-1980)
Sponsors
B, P, 7

This episode guide has been compiled from materials at the CTW Archives.

ⓘ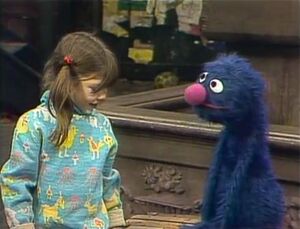 On a very slow day of counting, the Count plays some funky music that is irresistible to dance to. He then counts 6 dancing children that come by. (EKA: Episode 1038)
Film: In a gymnasium, a teacher and some kids play catch with a balloon. (EKA: Episode 1207)
Oscar helps Maria find accessories to go with her clown costume.
Early in the morning, Ernie sees some pigeons through the window, and wonders if he should wake Bert. (EKA: Episode 1187)
Roosevelt and Grier help each other make phone calls.
Cartoon: A woman's profile changes shape into other types of faces. (EKA: Episode 1073)
Everyone leaves for the theater where the costume contest will take place.