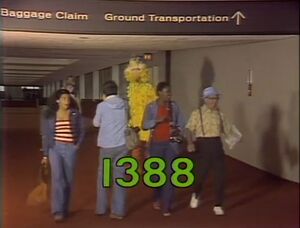 Picture
Segment
Description




SCENE 1
The gang packs the truck and gets ready to head out again. As always, Big Bird would rather stay behind and search for Mount Snuffleupagus.

SCENE 1
cont'd
Oscar has his own transportation (or lack thereof).

Cartoon
These Are Your Parts: The host interviews a hand.
(First: Episode 1359)

Muppets
Kermit talks about hands, with some assistance from a human hand.
(First: Episode 0342)

Cartoon
A woodpecker drills through a tree to demonstrate entrada and salida.
(First: Episode 0808)

SCENE 2
Buffy sings "I'm an Indian Wherever I Go" with some kids.

Video
Scanimate kids intro
(First: Episode 0798)

Muppets
Muppet & Kid Moment — Ernie and the kids play a hand-clapping game.
(First: Episode 0803)

Film
A boy and girl pretend to be the parents of a constantly-crying baby doll. The "father" proceeds to feed the baby and change its diaper.




SCENE 3
Big Bird and Snuffy think they've found the right mountain -- but what they see turns out to be "Mount Hole-in-the-Mountain" instead.

Cartoon
A tiny ant pushes the huge N into its place in the alphabet.
(First: Episode 0780)

Muppets
Caveman Days
King Ernie needs to clean his yucky teeth. The Royal Smart Person brings a big brush (used for sweeping), then a middle-sized brush (used for brushing hair), then a smaller brush (used for painting), and finally a really small brush (a toothbrush). Just as Ernie proclaims that he'll "brush every tooth in the entire kingdom," a saber-toothed tiger comes in, seizes the toothbrush, and begins to use it himself!

Cartoon
A hammer and chisel cooperate to carve a triangle out of wood, which a pencil uses to draw some.
(First: Episode 0932)

SCENE 4
Buffy plays with Cody by the river.

Cartoon
Millie and Molly find a place for their picture of their favorite rock star, Danny.
(First: Episode 1295)

Muppets
Ernie & Bert — Ernie and Bert cooperate to make Ernie's bed. Ernie notices that on his bed, which Bert is preparing, there is one side where the blanket is shorter than the other. Bert suggests that Ernie and him cooperate while making the blanket even on both sides, in the process the blanket is shorter at one side than the other.

Film
A mom and her son comment on a film of various animal babies and their moms.
Music: Joe Raposo
(First: Episode 0107)

SCENE 5
Keola and Kapono demonstrate a traditional Hawaiian hula. Bob and Mr. Hooper try it themselves.

Cartoon
A lion named Kent gets a Kick out of being King of the forest.
(First: Episode 0463)

Muppets
The Two-Headed Monster sounds out the word "Fall" and leaves fall on them. Then, they fall over.
(First: Episode 1319)

Song
"Me and You," over footage of rhinos in love
(First: Episode 0940)

SCENE 6
Bob turns to Keola for something romantic to say to Linda. He learns several signs to teach Linda when he goes home.

Film
Marching Band #4
(First: Episode 0529)

Cartoon
Pinball Number Count #4
(First: Episode 0984)

Muppets
The Count has built a rocket with the help of Dr. Reinbrein and plans to launch it from inside his castle. The two count down from the computer console, but the rocket doesn't take off. Indeed, Count never intended for lift-off; he plans on counting down again and again.
(First: Episode 1306)

SCENE 7
Big Bird and Snuffy do the hula.

Cartoon
A kitten is knittin' a kerchief, a kite, and a polka-dot mitten.
(First: Episode 0282)

Muppets
Muppet & Kid Moment — Grover, Kimberly, and Kermit demonstrate first and last.

Film
Sesame Street Animal Films: A widow bird flies from one tree to another.
(First: Episode 0391)

SCENE 8
Bob calls Linda back home. Luis interprets for both of them. Bob and Linda say they miss each other. Bob says he learned some signs to teach Linda. At the end of the phone call, Bob explains to Luis to hold his hand up and drop his 3rd and 4th fingers to Linda and give the sign for "I love you" and Linda signs it back. Luis does not know the sign but he is happy to communicate for Bob & Linda.
Cartoon
K-kick
(First: Episode 0463)

Muppets
An Anything Muppet boy and girl have a conversation using the letters of the alphabet.
(First: Episode 0273)

SCENE 9
Buffy shows Big Bird around the yard, introducing him to the various varieties of plants. She sticks a flower behind his ear.

Cartoon
An N-terview with an N
Artist: John Paratore
(First: Episode 0131)

Film
Counting 20 boxes
Music: Joe Raposo
(First: Episode 0510)

Muppets
Ernie & Bert — Ernie is confused when he sees Bert playing checkers with his pigeon, Bernice. Ernie thinks it's amazing that a pigeon can play checkers, but Bert thinks it is no big deal, because Bernice has only beaten Bert in two out of ten games.
(First: Episode 1227)

Cartoon
Checkerboard transition cartoon
(First: Episode 0105)

Cartoon
A song about the parts of a boy's body and the sounds they can make.
Artist: Paul Fierlinger
(First: Episode 0923)

SCENE 10
The kids swim in the ocean as the sponsors are mentioned by Maria.




CLOSING SIGNS
Maria holds up the Sesame Street sign, while Ernie and Bert hold up the CTW sign at the end.
Notes
This repeat of Episode 1093 omits the scene with the kids teaching Hawaiian games to Bob.