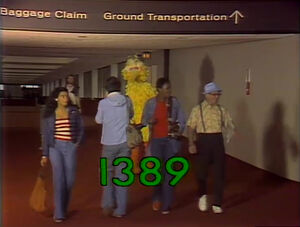 Picture
Segment
Description




SCENE 1
Still determined to find Mount Snuffleupagus, Big Bird and Snuffy take some kids along on their journey. They spot "Mount Sleeping Giant", which looks like a giant man sleeping.

Cartoon
A goose and gander visit the land of the G's.
Artist: Jeff Hale
(First: Episode 1141)

Muppets
Anything Muppets sing "Oh, G" in praise of the letter G.
(First: Episode 1167)
Cartoon
G is for Goat
(First: Episode 0085)




SCENE 2
As it rains, Keola and some kids sing "Three Blind Mice."

Cartoon
A man shows the viewers his "YES" machine.
(First: Episode 0822)

Muppets
Ernie & Bert — Ernie decides to set up an apple-selling stand, and has everything he needs, leaving out the apples.
(First: Episode 1219)

SCENE 3
Oscar learns, to his detriment, that aloha means good things.

Cartoon
Thelma Thumb: Thelma rescues an acrobat in the circus when the trapeze breaks.
Artist: John Korty

Muppets
"Disco Toothbrush"
(First: Episode 1314)

Film
A giant panda walks around.
(First: Episode 0920)




SCENE 4
Mr. Hooper, determined to show he's still got guts at his age, decides to try surfing in the Hawaiian ocean. The experience is stiffeningly exciting -- he's ready to go again!

Cartoon
The Ringmaster #5: Five fantastic floating fools fall from the big blue blimp.
(First: Episode 1310)

Muppets
Kermit tests two blindfolded monsters and asks them which number they're feeling. Herry Monster minus his blindfold describes how he knew the number was a five and in the process breaks the five into pieces. Cookie Monster attempts to feel the number and Kermit tells him that he can't since its broken. Cookie Monster devours the pieces and tells Kermit it tastes like a five.
(First: Episode 1200)




SCENE 5
Bob and Mr. Hooper play with the kids in the ocean.

Cartoon
A horse is drawn as kids guess what it is.
(First: Episode 0377)

Muppets
The Rhymies go camping, but a bear disrupts their campsite.

Film
The Mad Painter #5
(First: Episode 0345)

SCENE 6
Counting to ten in Hawaiian

Cartoon
A man appears out of a yo-yo string and narrates two poems about over, under, around, and through: one about a fish swimming around the wreck of the good ship Mary Lou, and another about a worm who eats through the center of an apple.
Artist: Jeff Hale

Muppets
Mr. Johnson has been served a bowl of soup, but flags down his waiter to make a complaint. He asks Grover to inspect the fly that's in his soup, but Grover looks under, next to, and on the soup before he agrees to bring out a new bowl. The kitchen is all out of what Mr. Johnson ordered, so he brings him Cream of Mosquito.
(First: Episode 1134)

SCENE 7
Snuffy talks to his mommy on the phone.

Cartoon
G is for Glue
Artists: The Hubleys
(First: Episode 0279)

Song
Joe Raposo sings "A Little Bit."
(First: Episode 0160)

Animation
Sand G/g
(First: Episode 0643)

SCENE 8
On the beach, Buffy sings "I Like to Use My Ears" to the kids.

Film
Topi antelopes nod "yes."
Music by Joe Raposo
(First: Episode 0411)

Cartoon
Is snow cold? Yes!
(First: Episode 0822)

Muppets
Muppet & Kid Moment — Herry Monster and Laurie identify different shapes.
(First: Episode 0881)




SCENE 9
Bob and Maria look at various shells. Oscar has a shell of his own, which squirts in Maria's face when she looks at it!

Cartoon
"Poverty K" - Karen the Kangaroo talks about words that start with the letter K. Featuring the sped-up voice of Gene Moss.
(First: Episode 0142)

Muppets
Two-Headed Monster: HAT
(First: Episode 1349)




SCENE 10
You can supposedly hear the ocean if you put a sea shell up to your ear. Coincidentally, you can also hear the sounds of the city if you listen to Oscar's tin can! (But if you're Maria, it'll squirt in your face.)

Film
A mandrill carries her young.
Music: Joe Raposo
(First: Episode 0039)

Cartoon
The Typewriter: K is for Key
(First: Episode 0879)

Transition
Bridge #4 - Tank Filling
(First: Episode 0105)




SCENE 11
Snuffy prepares to take a rest again, at a mountain they've been near before ... lo and behold, it is the very mountain they've been searching for! They've finally found Mount Ihu Papa'a Lo'ihi Nui -- Mount Snuffleupagus!

SCENE 11
cont'd
The adults finally catch up with Big Bird and tell him it's time to go home. Needless to say, they don't believe his exciting story. After they leave, the ground trembles as the mysterious mythical creature moves over and settles down for another 100 years. Maria announces the sponsors.
Community content is available under
CC-BY-SA
unless otherwise noted.