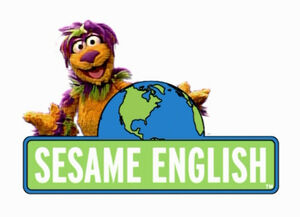 Picture
Segment
Description

SCENE 1
Niki and Tingo are watching a scary movie, when Quentin a director they know stops by. He asks Niki if she would like to be in his next movie. Tingo begs to be in it, too. He runs right out and comes back with movie star sunglasses and an ascot.

Muppets
Ernie gets emotional during a movie: first he's sad, then scared, then happy. His reactions bother the other moviegoers, and the scene ends in chaos.
(First: Episode 112: Tingo Hears a Noise)

Film
A paper crumples to reveal Q, q and Qq.

Cartoon
Fish swim to form Q and q.

SCENE 2
Tingo gives us a primer on some of the language used in making a movie during takes. However, he is making so many mistakes during the filming that Quentin and Niki get frustrated with him.

Animation
Growing Numbers #18

Animation
The number 18 in space.

SCENE 3
It is now take 18 and Tingo messes it up again. Quentin appears to be at the end of his rope.

Cartoon
Q for Quiet
Artist: John Korty

Film
Opera singers find themselves in a library and sing loudly at each other to be quiet.

SCENE 4
Quentin sends Niki and Tingo a copy of the completed film. At the end Tingo raves about how good Niki is, however she feels uncomfortable because Tingo isn't in the movie at all. But Tingo is so happy for her that he doesn't really care.
Releases
Community content is available under
CC-BY-SA
unless otherwise noted.