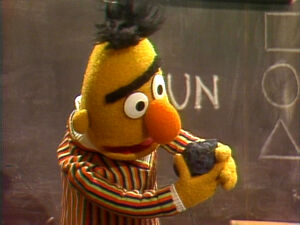 Olivia resents being looked after by her brother Gordon, now that she's a grown-up. She sings "I'm a Big Girl Now", where she explains that even though Gordon helped her a lot when she was younger, she's all grown up and doesn't need it as much. (First: Episode 0950)
Cartoon: Two dots play hide-and-seek amongst different shaped blocks. (EKA: Episode 0833)
Osgood Wingate, Oscar's new tenant, tidies up the can as well as the surrounding area.
David makes a sandwich for Osgood without touching any of the ingredients with his hands.
Cartoon: A little girl imagines what would happen if she dropped her bag of ping pong balls. (EKA: Episode 0899)
When Oscar returns home from vacation, he is dismayed upon finding that Osgood has tied up his trash can.