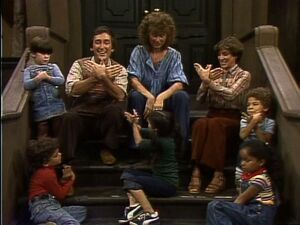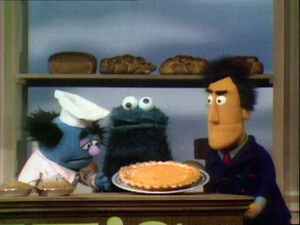 Big Bird selects unique colors while working with his coloring book.
Grover asks The Amazing Mumford if he could make his carrot disappear, provided that some smoke appears. Mumford performs the trick and Grover is impressed by the puff of smoke, however he fails to notice Mumford chomping on his carrot. When Grover asks Mumford to make the carrot reappear, he replies that he can't because he ate it ("You didn't say anything about magic!"). (EKA: Episode 1210)
A child balances on a fence while carrying a pole.
The Great Subtraction Play
Cartoon: Uncle Gus and all of us went for a ride to Ho-Ho-Kus. (EKA: Episode 0926)
Each of six children want a cookie, but there are only five.
Cartoon: A little girl shows the building and apartment where she lives -- both with the number 6. (EKA: Episode 0982)
Cartoon: A boy imagines that if the clouds were cows, it would rain milk. (EKA: Episode 1072)
Cartoon: What if we celebrate Valentine's Day with chickens instead of hearts? (First: Episode 0488)
Cookie Monster comes to the bakery looking for something delicious that rhymes with BUY. He tries the I (from the MIKE'S BAKERY sign) and the baker's TIE, both of which aren't that delicious. Finally, Guy Smiley comes in and loudly announces that he would like to BUY a PIE. Cookie then knows what he can get in the bakery that rhymes with BUY and is delicious: it's GUY! A chase ensues, and Cookie requests for the baker to send him the bill. (EKA: Episode 0519)
Harvey Kneeslapper sets up a bucket of confetti above a door, so that whoever pulls the rope attached to the bucket will get the confetti dumped on them. Instead, a little girl walks by and pulls the rope, so that the confetti lands on Harvey! (EKA: Episode 0592)
Cartoon: Look both ways before you cross the street.