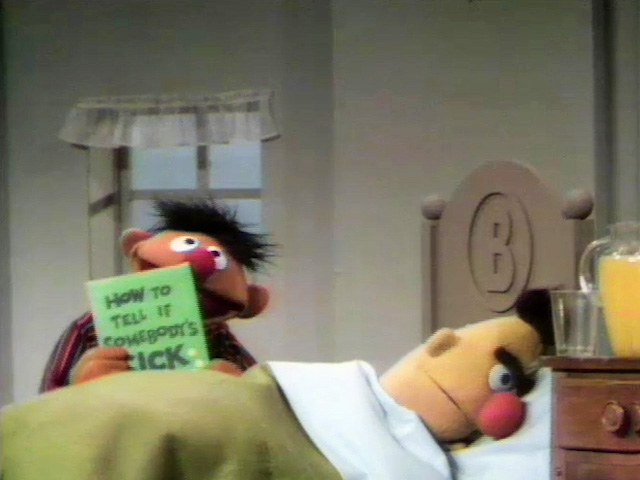 Cartoon: A cat musician explains to the other cats how to play in harmony. (EKA: Episode 0926)
Susan and children play with sand, shovels, and pails.
Ernie has heard that somebody in the neighborhood is sick. He looks in a medical book to find out how to tell if someone is sick... not realizing that Bert is the one with a cold. When Ernie finally realizes that Bert is ill, he's thrilled--Bert must have caught the cold from the sick person, so he can tell Ernie who it is! (EKA: Episode 0543)
Cartoon: Little Andy doesn't understand why everyone's nose turns pink around him, until he realizes he needs to get clean.
Cookie Monster is about to eat a cookie, when a sad-looking girl approaches and stares at him. He tries to eat the cookie, but can't do it. He breaks the cookie in half and shares the cookie with the girl. He eats his half of the cookie. When the girl eats her half, she eats it just like Cookie Monster. (EKA: Episode 0730)
Big Bird's beach party is a success.