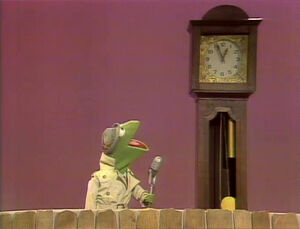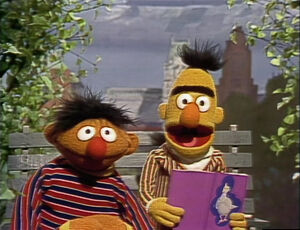 Big Bird pretends he is horseback riding.
Film: Kids go roller-skating in a playground as ragtime music plays. (First: Episode 1234)
Western: Four Anything Muppet cowboys put up a Wanted poster for "the Great Cookie Thief", who's been stealing cookies from all the bakeries in these here parts. Cookie Monster is standing in front of the poster, and the others suspect that he's the Great Cookie Thief -- he has the same googly eyes, the same blue fur, and the same Western hat. They confront Cookie Monster, but he denies the charge: "Not have same mustache!" He shouts, "Look over there!" -- and while they're distracted, he draws a mustache on the poster. They apologize -- but then Cookie Monster takes off his hat, and cookies fall out. The Great Cookie Thief makes his escape. (First: Episode 0276)
Bob asks the children to make believe they are dogs.
Cartoon: A man in a bowler hat hears different sounds behind each door.
the Fix-It Shop is in a chaotic state due to alterations.
Sesame Street News Flash: Kermit stands by a grandfather clock waiting for a mouse to run up it, acting out "Hickory Dickory Dock". A cow and duck show up instead. Finally, a horse comes in and explains that the mouse can't make it. The horse runs through the clock, breaking it. (EKA: Episode 0710)