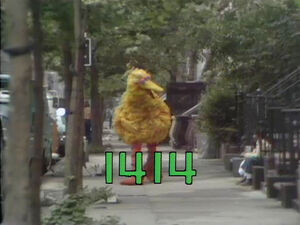 Picture
Segment
Description

SCENE 1
Olivia sings "Show Me a Happy Face" as the kids display different emotions.

Cartoon
Kids hear an L poem.
(First: Episode 0198)

Muppets
Ernie & Bert — Ernie comes home to a sleeping Bert and tries to think of things to do that won't wake him up. He can't watch TV, and he can't play with his ball. Bored, he decides to take a nap too -- but then he starts to snore. This awakens Bert, who wonders out loud where the noise is coming from, in the process arousing Ernie, who gets mad at being woken up.
(First: Episode 0280)

Film
I hab a cauld ib by dose.
Artist: Bruce Cayard
(First: Episode 1170)

Animation
A dune buggy is assembled.
(First: Episode 0506)

Cartoon
A man jumps into a poster of Lake Lillian.
(First: Episode 0347)

Celebrity
James Galway plays a beautiful tune on his flute for Oscar the Grouch, who considers it awful. He gets an old flute that's been in his family for generations and demonstrates how grouchy it sounds. James still manages to make beautiful music with it.

Film
Wild geese (to madrigal music)
(First: Episode 0935)

Cartoon
A boy talks about his various moods.
Artist: Bob Kurtz
(First: Episode 0772)

Muppets
Alphabet Chat: Lord Chatterly's poem on the letter L ends in chaos as usual.
(First: Episode 0762)

Cartoon
The Ringmaster displays 12 fluttering finches.
(First: Episode 1295)

SCENE 2
Judy comes by as Susan and the kids brush Barkley's fur. Judy gets a chance to brush him and becomes concerned at all the hair coming off with the brush. Susan assures her that dogs shed all the time and points out other ways bodies regrow things like hair, teeth and skin. Judy agrees that there's nothing to worry about, when Gordon arrives. Judy takes one look at his bald head and remarks, "Don't worry, huh?"

Animation
Shape organization, part 1
(First: Episode 0419)

Song
Joe Raposo sings "I'm an Aardvark."
(First: Episode 0425)

Animation
Shape organization, part 2
(First: Episode 0419)

Muppets
Muppet & Kid Moment — David says he can count to twelve hundred, but Farley would prefer just hearing him count to twelve.
(First: Episode 0291)

Cartoon
A supermarket worker stacks 12 cans, which keep collapsing every time someone grabs one.
(First: Episode 0782)

Muppets
Five Anything Muppets sing the "Numerical Correspondence Song."
(First: Episode 0735)

Animation
Shape organization, part 3
(First: Episode 0419)

Film
Kid voiceovers identify a horse's body parts (shown one at a time), then the complete animal.
Music: Joe Raposo
(First: Episode 0428)

Animation
Shape organization (all formations review), part 4
(First: Episode 0419)

Muppets
An Anything Muppet boy and girl have a conversation using the letters of the alphabet.
(First: Episode 0273)

Cartoon
The word entrada tries to run through a wall, then runs through the entrance.
(First: Episode 0939)

SCENE 3
Oscar is putting together a model Grouchmobile. He moans that he's received a defective part - one of the fenders is perfectly unscathed. Oscar remedies this by dropping it into his can and bashing it with a hammer.

Cartoon
A woodpecker drills through a tree to demonstrate entrada and salida.
(First: Episode 0808)




Film
Joe Raposo sings "Look at This" over footage of something ... can you guess what it is?
(First: Episode 0514)

Muppets
Ernie & Bert — Ernie answers the telephone. Bert overhears the conversation, which involves a baseball game, a rainy day, and a gorilla stealing a bologna sandwich. When Bert asks who just called, Ernie says it was a wrong number.
(First: Episode 0305)

Cartoon
A red-suited man introduces the letter N, for not now.
(First: Episode 1328)

Film
George the Farmer demonstrates noisy and quiet.
(First: Episode 0241)

Cartoon
Speech Balloon: N - Nail
(First: Episode 0040)

SCENE 4
Everyone comes to see Oscar's completed model car. As Oscar ducks down to fetch his camera, Gordon turns on the engine, which produces a deafening sound. He lifts the hood and quiets it down, but Oscar protests - the engine is supposed to be that loud.

Cartoon
Four people cooperate building a table.
(First: Episode 0537)

Muppets
Lefty's boss tells Lefty the plan for what to do with the Golden AN, which they have just stolen. Lefty is to put it in the tan van and give it to Dan, who will take it to Fran. However, Lefty can't remember the plan very well and has to repeat it, which results in a police officer named Stan hearing the plan and giving him "ten days in the can for stealing the Golden AN."
(First: Episode 0523)

Film
Exploring on the ocean rocks

Cast
Gordon sings "Let Your Feelings Show."
(First: Episode 0934)

Cartoon
On a snowy day, a cold man desires firewood. He carries a huge log up the hill multiple times, but it rolls down each time. Using his "wits", he pushes his house down to the bottom of the hill to be closer to the giant log.
(EKA: Episode 0825)

Cast
Maria as Chaplin deals with an unruly "Don't Walk / Walk" signal.
(First: Episode 1166)

Cartoon
Sign Man: DON'T WALK
(First: Episode 1162)

Film
A boy narrates a film of cows being fed hay during winter.
Music: Robert Dennis
(First: Episode 0787)

Cartoon
L for Lion
(First: Episode 0798)

SCENE 5
Big Bird has declared today Letter L Appreciation Day and finds many L words in people's possessions, including Barkley's shaking leg.

Cartoon
Speech Balloon: L--Loud
(First: Episode 0783)

Film
Jerry Nelson narrates a story about a green Muppet hand that learns to spin a top.
(First: Episode 0362)

Cartoon
Three birds enter a cuckoo clock to do their job."
(First: Episode 0407)

Insert
Stevie Wonder teaches Grover how to sing loud and soft.
(First: Episode 0514)

Cartoon
A man jumps into a poster of Lake Lillian. (repeat)
(First: Episode 0347)

Cartoon
"Pinball Number Count" (#12)
Artist: Jeff Hale
(First: Episode 0985)

SCENE 6
Barkley continues shaking a leg, which everyone tries to stop.
Community content is available under
CC-BY-SA
unless otherwise noted.