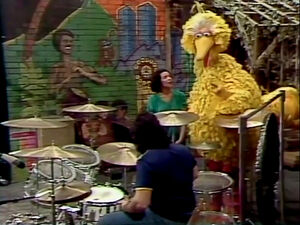 Picture
Segment
Description




SCENE 1
Robert Gottfried, Gordon, Maria and the kids clap along to the theme while sitting on the stoop. Big Bird recognizes Robert as a well-known drummer and wonders where his drums are. He points out one can drum on anything, anywhere. He gets everyone to slap a rhythm on their knees and starts playing things on the street with his drumsticks, until he reaches his drum kit in the arbor.

Cartoon
Y is for Yo-Yo
(First: Episode 0036)

Muppets
At a library, Cookie Monster asks an Anything Muppet librarian for a box of cookies. The librarian becomes extremely frustrated because Cookie Monster doesn't understand the library doesn't have cookies!
(First: Episode 0926)

Film
A girl meets a blind woman who has a seeing-eye dog.
(First: Episode 0952)

Cartoon
Sand "Y"
(First: Episode 0626)

Film
A film of two kids and a goat riding a turtle at a petting zoo is narrated in English and Spanish.
Music: Joe Raposo
(First: Episode 0486)

Muppets
Ernie wants to borrow Herbert Birdsfoot's vacuum cleaner, but he worries about how Herbert will respond. Maybe Herbert's taking a bath, and he'll be so angry at Ernie for interrupting him that he'll tell everyone to never loan Ernie anything ever again!
(First: Episode 0181)

Cartoon
A yak discusses the letter "Y" on a stage, and is insulted when it is called a "Yakkity-yakkity-yak".
(First: Episode 0301)

Video
Scanimate kids intro
(First: Episode 0798)

SCENE 2
Rob plays the drums while children around him move to the rhythm.

Cartoon
Snacks on Parade: Peanut Butter
Artist: Bruce Cayard
(First: Episode 1301)

Muppets
Ernie & Bert — Ernie has gone shopping -- buying bread for himself, and peanut butter for Bert. They realize that it's dull to eat what they have separately, and they decide to cooperate, so they can each have a peanut butter sandwich.
(First: Episode 0279)

Cartoon
5s go through a space-shredder and produce 5 objects.
(EKA: Episode 0864)




Cast
Bob, Maria and David demonstrate in, on and under in their own ways.
(First: Episode 0796)

Cartoon
Millie and Molly find a place for their picture of their favorite rock star, Danny.
(First: Episode 1295)

Muppets
Headball: Alphabet
(First: Episode 0988)

Cartoon
Some kids wander into the word OPEN, where there's a party going on.
(First: Episode 0394)

SCENE 3
Big Bird introduces types of weather (wind, thunder and rain) as Rob emulates their sounds with his drumkit. Big Bird now asks for the sounds of sunshine, but Rob points out that there is no sound for that. "Oh well, two out of three isn't bad," he says, cueing a rimshot from Rob.

Film
Various objects become OPEN.
(First: Episode 0442)

Celebrity
The Pointer Sisters sing the "Swingin' Alphabet."
(First: Episode 0773)

Film
You can't see the wind.
(EKA: Episode 1077)

Muppets
Bob asks a blank-faced Large Lavender Live Hand Anything Muppet how he feels. The Muppet answers, "I don't feel anything." Bob sticks a nose and angry eyes on the Muppet, who then starts to feel mad. He walks off in a huff, and we hear a crash off-screen. The Muppet comes back and ad-libs, "It's okay, Bob, I just dropped my watch!"
(First: Episode 0491)

Film
A baby monkey
Music: Joe Raposo
(First: Episode 0280)

Muppets
Grover sings "I Stand Up Straight and Tall" while using some fast cutting camera trickery.
(First: Episode 0916)

Cartoon
The Typewriter: I for Ink
Artist: Jeff Hale
(EKA: Episode 0847)

Cast
Captain Under-Wonder (Luis) shows how he goes under an umbrella, a table and the tire swing (the latter by shrinking himself down).
(First: Episode 0508)

Film
A girl gets on, in, and under a blanket in a park.
(First: Episode 0406)

SCENE 4
In a split-screen, Rob drums slow and fast, then puts both rhythms together.

Cartoon
"Two headlights, two eyes, two schoolbooks, two pies..."
(First: Episode 0926)

Muppets
Grover demonstrates the number 2: Part 1
Counting to 2 is not very exciting.
(First: Episode 1156)

Cartoon
Capital I, he's quite a guy
(First: Episode 0368)

Muppets
Grover demonstrates the number 2: Part 2
Nobody's favorite number is 2.
(First: Episode 1156)

Cartoon
A boy and a dog fight over a letter "I."
(First: Episode 0143)

Muppets
Grover demonstrates the number 2: Part 3
The huge visual aid falls on Grover.
(First: Episode 1156)

Cartoon
He, She and It show how a faucet works.
(EKA: Episode 1161)

Film
The kids form a capital I.
(First: Episode 0462)

Film
Kids identify pairs of animals in a zoo.
(First: Episode 0364)

Cartoon
What if I looked like George Washington...

SCENE 5
Maria enjoys the gentle, soft drumming of Rob, but Oscar wants him to play loud. Rob goes back and forth between their requests, until he finds some middle ground, which neither of them enjoy the sound of.

Song
"Watch the Dance": A calypso singer points out the body parts of a dancer.
(First: Episode 0654)

Cartoon
The life of a Yellow Yahoo
(First: Episode 0043)

Film
Sesame Street Animal Films: A widow bird flies from one tree to another.
(First: Episode 0391)




SCENE 6
Big Bird requests that Rob imitate something while playing soft, loud, fast and slow. Rob starts playing his drums as if he is a train starting its route. Gordon announces the sponsors.
Community content is available under
CC-BY-SA
unless otherwise noted.