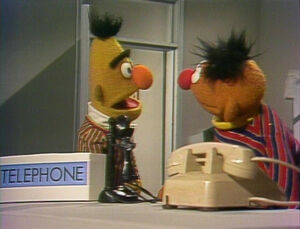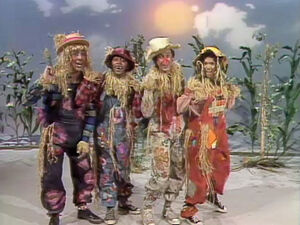 Cartoon: A man learns that it's better not to pick the flowers. (EKA: Episode 0808)
While Ernie finishes his conversation with Grover on the telephone, Bert comes inside with a package containing an antique telephone because he won't have to wait for Ernie to finish his turn using the phone. (First: Episode 1394)
An actor plays various roles, such as a cowboy, baker, sailor, clown, mailman, farmer and magician.
Film: To a jazz rhythm soundtrack, the camera zooms in on flowers growing on a tree. (EKA: Episode 0842)
Animation: The mountains make a snack for a bird, but he forgets to brush his teeth afterward.
Muppets cooperate to row a boat.
Ernie eats the chocolate cake that Bert was planning on eating. Bert sees some icing on Ernie's mouth, a bib around his neck, and a fork and knife in Ernie's hand, and Ernie tells Bert that a monster came in, ate Bert's cake, and put the evidence on Ernie. Bert doesn't believe Ernie's lie and gets another piece of cake, but when he leaves the room, Beautiful Day Monster comes in and does exactly what Ernie told Bert happened to the first cake, but when Bert comes back and sees the other cake eaten and Ernie says that the monster ate it, Bert doesn't believe him. (First: Episode 0119)