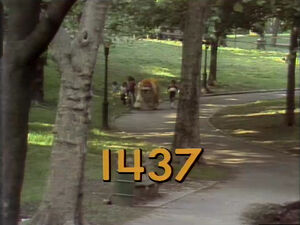 Picture
Segment
Description




SCENE 1
Big Bird asks Maria to hold some flowers while he draws a picture. Maria assumes she's being drawn as well, but Big Bird instead describes the features of Mr. Snuffleupagus, whom the final result resembles. Big Bird explains that Snuffy is the one who picked the flowers.

Cartoon
Sign language: Morning, noon, night
(First: Episode 1173)

Muppets
"The Subway"
(First: Episode 0762)

Film
A toymaker makes an airplane out of wood.
(First: Episode 0762)

Cartoon
Shorty reaches a water fountain with a stool.
(First: Episode 0954)

SCENE 2
David finds that Barkley can stand on just three legs (while scratching himself), then two legs (when jumping) and finally, no legs (as David gives him a tummy rub).

Cartoon
Two kids wonder where some mysterious tracks on the ground come from.
(First: Episode 1056)

Muppets
Grover talks about the letter G, as it slowly grows.
(First: Episode 0210)

Film
Things that begin with G
(First: Episode 0357)

Film
The walrus
(First: Episode 0296)

Muppets
Cookie Monster shows all, some and none using a bag of cookies: he pours all the cookies on the plate, eats some of them, but leaves none for Ernie.
In subsequent airings, the music button is played earlier and part of the ending is snipped.

SCENE 3
Big Bird blends the parts of the word PET, cueing an appearance from Barkley.

Cartoon
"Geometry of Circles" (complete)
(First: Episode 1392)
Film
Peacock
Music: Joe Raposo
(First: Episode 0278)

Muppets
Leslie Mostly talks with Cookie Monster about his home, which is made entirely out of cookies of different shapes. By the end of his interview, he devours his whole house.

Cartoon
A gorilla who knows G words applies for a job.
(First: Episode 0131)




Muppets / Cast
The Count listens to Olivia read the story "The Two Headed Monster", enacted by the titular monster. The book is about how the monster cannot decide on what to do because both heads want to do different things. Eventually they learn that together, they are able to lift weights, play doctor ("Kildare! Kildare!"), play the piano ("Tchaikovsky! Mozart!"), and eat a salami-and-cheese sandwich.
(First: Episode 1121)

Cartoon
The Typewriter gets stuck in a spot of glue, and types "G: Glue."
(First: Episode 0775)

Muppets
Sally Sanchez can speak English and Spanish. Her pet cat, Gato, is bi-lingual too, speaking both cat and dog (with a hint of cow).

Cartoon
Three birds enter a cuckoo clock to do their job.
(First: Episode 0407)

Film
Marching Band #3
(First: Episode 0517)

Cartoon
Billy Jo Jive: After Bad News Barton fails to make the swimming team, Billy and Smart Suzie teach him to eat healthier.




SCENE 4
Maria plays a "shoe salad" game with the kids. She turns Barkley away, since he doesn't have any shoes. The kids have each taken off one shoe, which are jumbled in a pile. Maria calls, "Go!" and they search for their missing shoe in the pile. Barkley comes back with a shoe of his own - Maria's now-chewed up bedroom slipper.

Muppets
Bip Bippadotta and friends show none, some and all.
(First: Episode 0615)

Film
Mad Painter #3
(First: Episode 0343)

Celebrity
Clive Thompson and Tina of the Alvin Ailey Dance Theater dance to a blues number.
(First: Episode 0851)

Cartoon
K is for Karate
(First: Episode 0489)

Celebrity
James Galway plays his flute different ways to convey different emotions.

Muppets
Ernie helps Cookie Monster in making apple-walnut-raisin cookies, but every time Ernie hands the monster each ingredient, Cookie Monster instantly devours it.
(First: Episode 1287)

Cartoon
K for Kite
(First: Episode 0489)

Insert
Three of These Kids are wearing winter gear in the cold, but one is not.
(First: Episode 0463)

Cartoon
A kitten is knittin' a kerchief, a kite, and a polka-dot mitten.
(First: Episode 0282)

Song
Joe Raposo sings "Touch, Hold, Feel."
(First: Episode 0504)

SCENE 5
Gordon brings some bookends into the Fix-It Shop, one of which he accidentally broke while dusting. Maria has some special new glue that is sure to keep it together. Sure enough, the glue works, but also manages to stick the bookend to the shop's countertop. Big Bird suggests they instead bring the books into the shop.

Cartoon
A red man illustrates abierto, while an angry blue man shows cerrado.
(First: Episode 0784)

Muppets
"ABC Disco"
(First: Episode 1324)

SCENE 6
Maria, Gordon and the kids play as the sponsors are announced.