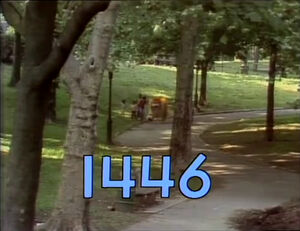 Picture
Segment
Description




SCENE 1
Big Bird wishes he could go to school like Kathy. She says it's visitors' day at school and he can come along, but it's too much of a surprise for him. He talks it over with Mr. Hooper and Maria, who quickly fill a school bag, and goes to meet Kathy at the bus stop.

Song
"School Song"
(First: Episode 0986)

Muppets
Anything Muppets (including Farley) shout "E!"
(First: Episode 0408)

Cartoon
E Imagination
Artists: The Hubleys
(First: Episode 0001)

Cast
Olivia sings "Sing" while Linda signs.
(First: Episode 1330)

Film
A film of camels eating.
Music: Joe Raposo
(First: Episode 0388)
cut from the Noggin version

Muppets
The Two-Headed Monster says RUN!

Cartoon
Speech Balloon: E for egg
A cow hatches a chick, which says "Moo."
(First: Episode 0002)

Film
Exploring on the ocean rocks
(First: Episode 1414)

Cartoon
The Typewriter: E-Ear
(First: Episode 0807)




SCENE 2
Big Bird arrives at school, although Mrs. Merkel, the teacher, is a little hesitant at first. Big Bird tries to figure out how to fit in a school desk. Mrs. Merkel gives him a stool to sit on.

Song
"The Ball Goes Up, The Ball Goes Down"
(First: Episode 0773)

Muppets
A shark sings about his "Perfectly Pearl-White Teeth."

SCENE 3
Big Bird learns to raise his hand.

Cartoon
Eight legs on an octopus
Owe Gustafson
cut from the DVD version

Muppets
Ernie & Bert — Ernie and Bert decide to use both Bert's canvas and Ernie's paints to paint a picture of something. Bert wants to paint a bowl of oatmeal, but Ernie wants to paint a purple monster. Finally, they decide to paint a purple monster eating a bowl of oatmeal.

Cartoon
A moving truck takes the number 8.

SCENE 4
Big Bird counts to ten, but the rest of the class can count to twenty.

Film
Blocks form a ramp and a tunnel.

Celebrity
Telly Monster and Itzhak Perlman play Beethoven together -- Telly on the tuba, and Perlman on the violin.

Film
Wild geese (to madrigal music)
(First: Episode 0935)

SCENE 5
Big Bird wants to know what to do during recess.

Muppets
Game Show: Mystery Mix-up Game
(First: Episode 0834)

Film / Cast
Gordon rides his bike around the city.
(First: Episode 0927)
cut from the Noggin version

Cartoon
F - finished
(First: Episode 0128)

SCENE 6
Big Bird looks at the alphabet written on the wall, and sings "ABC-DEF-GHI" (First season soundtrack is used here).

Cartoon
F stands for flower, forest, fox, frog and fantastic.
(First: Episode 1102)

Muppets
Forgetful Jones and Buster the Horse brush each other's teeth.

Cartoon
Toothpaste March
Artist: Ray Favata




SCENE 7
Worried about how to introduce himself to the other children, Big Bird sings "What's Your Name" as he rehearses with a garbage can. The kids invite him to play jacks.

Cartoon
A father explains to his son why it is important to wear a seat belt when riding in a car.
Artist: Cliff Roberts
cut from the Noggin version

Film
Mad Painter #8
(First: Episode 0326)

SCENE 8
School is over, and it's time for Big Bird to go home. Mrs. Merkel explains that he can't take his desk home with him.

Film
A saxophone is made in a factory, while a solo saxophone underscores the process.

Cartoon
Olga the lonesome robot

SCENE 9
Big Bird arrives home from school, and tells Maria about his day. Mr. Hooper announces the sponsors.




CLOSING SIGNS
Barkley is seen with the Sesame Street sign, while Deena holds up the CTW sign.
Alterations
Picture
Segment
Description

Cartoon
The Ringmaster #8
(First: Episode 1291)
On the DVD version of this episode, the eight octopus legs segment is cut and replaced with this one.
Notes
This is the first season premiere to not be sponsored by the number 2.