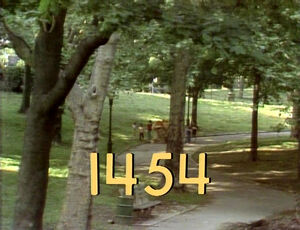 Picture
Segment
Description

SCENE 1
Gordon and Susan make their way to Big Bird's nest for a pretend tea party and assume Big Bird's imaginary friend, Mr. Snuffleupagus, will be there too. At the party, they address the empty seat as Snuffy and pretend to give him some tea, though Big Bird is left wondering who they're talking to.

Cartoon
V for Van (live-action/animation hybrid)
Artist: Paul Fierlinger
(First: Episode 1181)

Cast
The Alphabet Dancers form the letter V.
(First: Episode 0455)

Song
Joe Raposo sings "Touch, Hold, Feel".
(First: Episode 0504)

Cartoon
Speech Balloon: V for Violin
A musician plays a violin, which instantly breaks.
(First: Episode 0052)

Muppets
Two Anything Muppets (Frank Oz and Jerry Nelson) use a tape measure to figure out how far apart they are from each other. It turns out that thirty-seven feet separate them.
(First: Episode 0905)

Song
"Paying Attention Song" (Charlie Tyson)
(First: Episode 0934)

Cartoon
"Young MacDonald Went to Town"
(First: Episode 0787)

SCENE 2
Gordon sits outside Hooper's Store to grade papers and Mr. Hooper assures him he'll make sure no one bothers him. However, Mr. Hooper is the one who constantly interrupts him to bring him some nourishment.

Cartoon
This is a big letter V poem
(First: Episode 0507)

Animation
A set of blocks reveal a square, a triangle, and a circle.
(First: Episode 1184)

Muppets
Muppet & Kid Moment — Kermit and Tracy count to 10.
(First: Episode 0120)

Film
Kids count 20 penguins going down a slide.
(First: Episode 0232)

Muppets
An Anything Muppet girl (Kathryn Mullen) imagines she's a doctor, movie director or firefighter.

Cartoon
Millie and Molly take a walk, and have different perspectives of their surroundings.
(First: Episode 1309)

Cast
Bob and Linda musically show the signs for "Hat, Coat, and Pants."
(First: Episode 1031)

Film
Three dolphins jump together.
(First: Episode 0222)

Muppets
Kermit's Lectures: Kermit attempts to demonstrate between by standing between two poles, which are actually mops held by Grover and Herry.
(First: Episode 0283)

Cartoon
Passengers on a crowded subway illustrate "between."
(First: Episode 0795)

Film
Six children go down a slide.
(First: Episode 0600)

Cartoon
A lost man in the desert asks a stranger for directions to the city. He builds a pretend city out of sand to show what it looks like. As it turns out, the stranger is an alien.
(First: Episode 0763)

Muppets
Deena wants to play house with Pearl, who wants to sleep instead. Pearl joins the game when she discovers she'll be putting baby Deena to bed, but the game becomes more complicated than Pearl believed.

Animation
An opened egg is put back together.

SCENE 3
Telly Monster wants to show between, but can't find anything to be between. Gordon and Susan help by putting him between them.

Muppets
"I'm Between"
(First: Episode 1233)

Cartoon
The Typewriter: V for Vacuum
(First: Episode 0774)

Song
Joe Raposo sings "Somebody Come and Play".
(First: Episode 0047)

Cartoon
Pinball #10
Artist: Jeff Hale
(First: Episode 0990)




Muppets
Oscar holds a musical rally in Central Park to bring awareness to the Grouch "Bill of Gripes."
(First: Episode 1262)

SCENE 4
Big Bird finishes reading Snuffy a story, which he considers great. Snuffy feels differently about it, however. The two have a fight and mutually agree to stop being friends. They then realize they won't be able to play their favorite games together anymore and decide to be friends again, understanding they can like different things.

Cartoon
The ET family is demonstrated in a story of the zet, a quick-witted bird.
(First: Episode 0236)

Cartoon
Z For Zebra & Zoo
(First: Episode 0281)

Cartoon
Pick the right ET word (featuring the Zet)
(First: Episode 0473)

Cartoon
Z In Space
(First: Episode 0509)

Cartoon
Pick the right picture (featuring the Zet)
(First: Episode 0260)

Muppets
Muppet & Kid Moment — Grover learns what Kate wants to be when she grows up.
(First: Episode 0783)

Cartoon
A pirate has his mate dig for treasure, which is buried between two trees. The mate doesn't know what between means. He finally gets the message, but a parrot makes off with the treasure.
(First: Episode 0779)

SCENE 5
While Susan works on her car, Oscar complains about what a nice neighbor she is. She decides he should tell it to her face, but when he sees how dirty she is, he finds her beautiful!

Muppets / Celebrity
Lena Horne and The Anything Muppets sing an upbeat version of "The Alphabet Song."
(First: Episode 0575)

Cartoon
A girl draws her version of a (stick-figure) man. A boy draws his version of a woman - the Mona Lisa.
(First: Episode 0780)

Film
Tomatoes grow in a field. (edited)
(First: Episode 0084)




SCENE 6
Oscar tells Gordon how lovely Susan is, claiming she might be too good for Gordon. Susan comes back outside, all cleaned up, which disappoints Oscar. She gives him a present - the dirty oil strainer for her car. Oscar plays with his new piece of trash, as Mr. Hooper announces the sponsors.




CLOSING SIGNS
Grover holds up the Sesame Street sign, while Oscar holds up the CTW sign at the end.
Community content is available under
CC-BY-SA
unless otherwise noted.