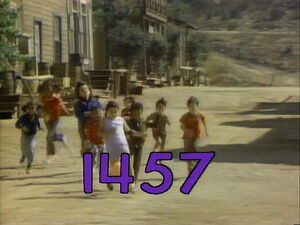 Picture
Segment
Description




SCENE 1
Mr. Hooper welcomes the viewer, and is about to explain the word "closed" when Big Bird interrupts him. Big Bird assumes Mr. Hooper is going to talk about the letter L, the alphabet, and rectangles, all of which have to do with the sign -- but Big Bird can't see the word "closed" until Mr. Hooper points it out.

Cartoon
Things say that other things are small, but then something comes along that's bigger, or smaller, or whatever.
(First: Episode 0320)

Muppets
Muppet & Kid Moment — Ernie, Bert, and Shola demonstrate "big," "small," "smaller, and "smallest" with four balls.
(First: Episode 0544)

Film
Body parts song sung in Spanish.
(First: Episode 1113)

Cartoon
Jasper thinks that he has lost his elbow, but Julius shows him his elbow by bending his arm.
Artist: Cliff Roberts
(First: Episode 0410)

Song
"Here Come the Beans"
(First: Episode 0537)

Muppets
Leslie Mostly interviews Count von Count from his castle.

Film
"It's an Otter!"
Music: Joe Raposo
(First: Episode 0284)

Cast
Linda and a boy sign the word "CLOSED."
(First: Episode 1082)

Film
The sign CLOSED spins around.
(First: Episode 0955)

Cartoon
Jazz Alphabet: male vocalists shout each letter.
(First: Episode 0619)

Insert
Big Bird narrates as some and more leaves fall on Susan while she reads.
(First: Episode 1399)

Song
"Hello, Scale," a film about measuring weight.
(First: Episode 0578)

Muppets
Grover the Assistant: Grover volunteers to assist the Amazing Mumford in his suspension act. Grover will get on top of a platform, and Mumford will pull the pillar off from underneath, and the platform will not fall. The trick works, so Grover decides to try it himself, with Herry Monster as his assistant. Grover can't pull it off, and Herry falls.
(First: Episode 0292)

SCENE 2
Luis sings "Smile (Sonrier)" to some kids.

Cartoon
Kids hear an L poem.
(First: Episode 0198)

Film
How a steel drum is made
(First: Episode 0828)

Cartoon
Two Elephants
Artist: Owe Gustafson

Muppets
Waiter Grover: Hamburger - Mr. Johnson wants a hamburger. The restaurant offers two sizes: the big hamburgers and the small hamburgers. When the small hamburgers are too small, he orders a big one, but because there have been some problems with the big hamburger, Grover tries to convince him to order several small ones.
(First: Episode 0705)

Cartoon
Train #2
(First: Episode 0353)

Muppets
Leslie Mostly has a brief interview with the word CASA.

Film
Comparing a boy's skin to animals' fur, feathers, skin, and other coverings.
Music: Joe Raposo
(First: Episode 0108)

Celebrity
Ray Barretto and his fellow drummers play together.
(First: Episode 0986)

Cartoon
Three little men climb up the three flower stems.
(First: Episode 0634)

Muppets
Farley goes to the hat shop. (short take)
(First: Episode 0244)

Cartoon
A boy tries to count to twenty while playing with a paddleball, but gets interrupted by a bird.
(First: Episode 0152)

SCENE 3
Oscar presents a commercial for something truly rotten.

Cast
Bob and Maria struggle to wash some dishes, when (the very loud and booming) Captain Cooperation (Luis) shows them how cooperation will ease the process.

Cartoon
The Pink Panther - K For Karate
(First: Episode 0241)

Muppets
Sesame Street News Flash
Kermit witnesses as Don Music tries to rewrite "Twinkle, Twinkle, Little Star." He succeeds and is joined by a country-western band, who sings "Whistle, Whistle, Little Bird."
(First: Episode 1210)

Animation
Sand K/k
(First: Episode 0645)

Muppets
Ernie & Bert — Ernie thinks that he isn't special. Bert tells Ernie to feel his nose -- "That's an Ernie nose!" -- and then feel his hair, and wiggle his fingers. Bert says that nobody else is just like Ernie. Encouraged, Ernie tells the audience to do the same.
(First: Episode 0276)

Cast
Gordon and Olivia try to cooperate under the sun, with voiceover from Bob.
(First: Episode 1245)

Film
The Mad Painter #2
(First: Episode 0309)

Insert
Bob explains to some kids what it means to be deaf, using Linda as an example, and sings "If You Couldn't Hear."
(First: Episode 1338)

Cartoon
Speech Balloon: L for Light
(First: Episode 0147)

Muppets
Ernie & Bert — A tough guy named Tough Eddie accidentally knocks over Bert's sand castle while he's sleeping. Ernie points that out to Eddie, and Eddie tells Ernie, in a threatening tone of voice, that he's "got something" for Bert. It turns out to be an ice cream cone.
(First: Episode 0482)

Film
Stacy gets an examination at the eye doctor's and receives a new pair of glasses.
(First: Episode 1129)

Muppets
Tony tends to an Anything Muppet shopping for a fur coat who ends up wearing a monster (Cookie Monster, to be exact).
(First: Episode 0145)

Cartoon
L for Lion (poem)
Artist: Jeff Hale
(First: Episode 1149)

SCENE 4
At night, Mr. Hooper closes the store and is about to walk Big Bird home, when Big Bird reminds him to announce the sponsors.




CLOSING SIGNS
Ernie and a kid hold up the Sesame Street sign, while Oscar holds up the CTW sign at the end.