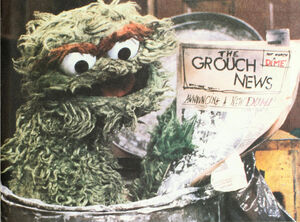 Picture
Segment
Description

SCENE 1
Oscar the Grouch greets the viewer very early in the morning and explains that it's his favorite time of day because no one else is awake yet to ask him to play games or sing songs. He revels in the sound of a passing garbage truck, but cringes at the tweets of birds waking up... which makes him grouchy. When Big Bird wakes up in his nest and states how beautiful the morning is, Oscar retreats to the depths of his trash can.

Muppets
Pearl's sick in bed, and Deena tries to help her as much as she can. She dresses up as a fireman and a cowboy before dressing up as her father to take care of her.

Film
"Indian Baby Bath"
Music: Joe Raposo
(First: Episode 0444)

Cartoon
A story about an ape and a bird, using the letter A.
(First: Episode 0158)

Muppets
The Two-Headed Monster learns how to use a toothbrush.
(First: Episode 1189)

Film
A man talks about his working horses.

SCENE 2
Susan sits on the steps of 123 Sesame Street looking through a box of books a friend dropped off with her. She's going to put them on the bookshelf in her apartment, but it's too heavy to lift herself. Telly Monster comes along and makes the same assessment of its weight and notes that lifting it would be dangerous for one person. He empties the box out, making it light as a feather. Except, now he has a problem: how to transport the books.

Cartoon
The weary traveler seeks advice from the Wise Man on the difference between heavy and light.
(First: Episode 0945)

Muppets
Muppet & Kid Moment — Ernie, Bert and Shola discuss the difference between "heavy" and "light".
(First: Episode 0549)

Cartoon
An elephant counts to 20.
Artist: Owe Gustafson

Song
Joe Raposo sings "Kangaroo Blues".
(First: Episode 0277)

Celebrity
The Fonz has a message - "A."
(First: Episode 1152)

Film
"Three of These Kids" — Football and Baseball
(First: Episode 0536)

Cartoon
A girl and elephant show heavy and light.
(First: Episode 0785)

Muppets
Ernie & Bert — Ernie and Bert plan to go to the zoo tomorrow, but Ernie can't make up his mind. What would happen if Ernie bought a balloon, but then lost it when he gets frightened by a buffalo? Then he remembers that the zoo is closed on Wednesdays.
(First: Episode 0137)

SCENE 3
Oscar is in his can reading about a new dump opening soon in the Grouch News when Maria and Susan sneak up on him and kiss him on each side of his face. Oscar is horrified and reminds them how he doesn't like to be touched, much less kissed. Maria and Susan apologize and recognize their wrongdoing; Oscar has every right not to be touched and they'll respect his wishes. When they promise never to do it again, Oscar adds maybe when he says they can. But not now.

Cartoon
"It's a Lovely Eleven Morning"
Artist: Bud Luckey
(First: Episode 0362)

Muppets
Game Show: Mystery Mix-up Game
(First: Episode 0834)

Cartoon
"Five Bears in the Bed" get subtracted as they fall off the bed.
(First: Episode 1231)

Cast
Bob asks Janice to to identify the letter A and the corresponding picture of an apple.
(First: Episode 1107)

Cartoon
"The Story of A": A witch tells bored kids a story about the letter A involving an ant's apple getting stolen by an archer.
(First: Episode 0130)

Film
People of all ages ride bicycles.
Music: Joe Raposo
(First: Episode 0616)

Film
Jerry Nelson narrates a story about a green Muppet hand that learns to spin a top.
(First: Episode 0362)

Transition
Bridge #10 - Bricks A
(First: Episode 0286)

SCENE 4
Big Bird and the kids try to help a cat who's stuck in the tree in front of the construction doors. They hold a sheet taken from Susan's clothesline, but the cat won't jump down. Maria arrives with a ladder, and carries the cat down. Big Bird wonders what the cat was doing up there in the first place when Barkley comes storming in, frightening the cat back up into the tree again.

Cartoon
Thelma Thumb — A friend of Marcia's is in danger: he's riding his bike at night without lights. Thelma asks the fireflies for help.
(First: Episode 1171)

Muppets
The Rhymies go camping, but a bear disrupts their campsite.
(First: Episode 1389)

Song
Joe Raposo sings "Flies on Animals" over footage of animals bugged by pests.
(First: Episode 0449)

Cartoon
A little girl sings "The Alphabet Song," while continually admonished by an adult in voice-over.
(First: Episode 0010)

Film
Animals and children bathe in water.
Music: Joe Raposo
(First: Episode 0615)

Muppets
"Do the Wash"
(First: Episode 1309)

SCENE 5
Barkley has chased the cat into Big Bird's nest where she's taken up hiding in one of the barrels. Big Bird convinces the cat to come out because Barkley only wants to play with her. Slowly, she does, so Big Bird leaves them alone so they can become acquainted.

Cartoon
A man displays the capital and lowercase A, and explains what an alligator is.
(First: Episode 0006)

Muppets
Ernie & Bert — Ernie pretends to be a dog and a duck. Bert then pretends to be a train, and does it so well that a train conductor and passengers come through the apartment.
(First: Episode 0645)

Cartoon
A man (voiced by Jack Dodson) describes places that begin with U and what you can do with the letter U.
(First: Episode 0416)

Film
Bridge #8 - Rectangle Bridge B
(First: Episode 0290)

SCENE 6
In the arbor, Big Bird tells Maria about how he got Barkley and the cat to be friends, just as Barkley comes running in chased by the cat.
Community content is available under
CC-BY-SA
unless otherwise noted.