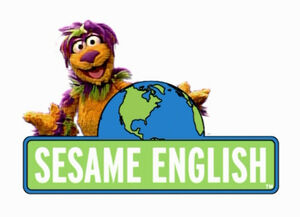 Picture
Segment
Description

SCENE 1
Tingo, Niki and Jenny have some ice cream before they plan to go to the playground.

Muppets
"At the Playground"
Taken from episode 3136 of Sesame Street, on-screen text added

SCENE 1 cont'd
The song ends in Jenny's imaginary thought bubble, as she thinks about what she loves to do at the playground. Her thoughts suddenly turn into thunder and they see a rainstorm has just begun, preventing their trip.

Cartoon
Pencil box I/i

Animation
CGI sheep graze out I and i.

Film
People name their favorite ice cream flavors.

Cast
The Adventures of Pete and Joe
The monsters can't decide whether to paint or eat, so they dance together instead.
(First: Episode 134: Still Life Without Fruit)

SCENE 2
The rain continues, so Tingo entertains Jenny with a sock puppet show starring "Sharky and Inky." Sharky likes to dance and starts grooving to the following tune...

Muppets
"Do De Rubber Duck" (first two verses only)

SCENE 2 cont'd
Jenny is entertained, but still longs for the playground.

Cast
The opera singers sing about what they will do in their playground set.

SCENE 3
Suddenly, one of the singers bursts into the basement and the rain goes away. They join him in singing about going to the playground, but first, he sits in to have some ice cream.