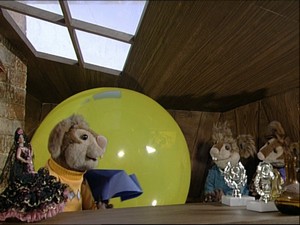 Mopatop opens the episode by offering two Jabbering Jars, three falling stars or a rocket to Mars.
Meanwhile above the shop Moosey Mouse is playing with his paper airplane, and Mother Mouse wishes that he would do it somewhere else. Lamont the Sloth arrives with a delivery of balloons attached to a basket. Puppyduck and Mopatop are happy to get the delivery since there seem to be many customers that like balloons these days. Charlene enters the shop because she would love to fly like to fly like other birds. Moosey overhears the conversation in the shop so he hurries down to see what's going on. Mopatop is sure they can figure out how to make Charlene fly, so Puppyduck finds "the big how to do things book" and they start to sing instructions on how to fly to Charlene. But nothing works and Charlene decides to leave the shop. On her way out she trips and falls in the basket that Lamont delivered earlier with ballons attached to it and starts to fly up in the air. Charlene is happy but a new problem arises, she doesn't like to go up and up and up. Mopatop pulls her down and then one of the balloons gets free and flies up to the Mouse family. Moosey is so impressed by the big balloon that he drops his paper airplane down to the shop and decides that he doesn't need it anymore. Charlene still wants to fly but doesn't like to go up and up and up. The paper airplane lands next to Charlene and she realizes that she can fly a paper airplane without actually flying in the air.
Performers
Community content is available under
CC-BY-SA
unless otherwise noted.