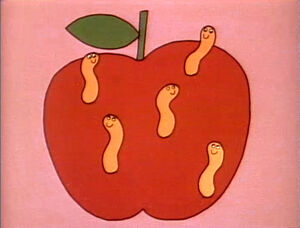 It's so hot outside on Sesame Street that Oscar cooks his breakfast on the sidewalk.
Luis and Mr. Hooper use some old fashioned ways to get some relief from the heat.
In order to cool off, Big Bird and the kids imagine that they are playing in the snow.
The residents of the street sing "I Wish It Would Rain."
The weather man reports that relief is on the way for the heat stricken residents of Sesame Street.
Cartoon: Five Worms In An Apple