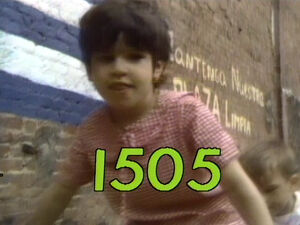 Picture
Segment
Description

SCENE 1
Big Bird introduces "Action Alphabet Time" on Sesame Street. Linda pushes in a giant letter J, then acts out various J words for the others to imitate (jumping, juggling and jogging). Mr. Hooper brings the tired participants some juice.

Cartoon
A little man misplaces his J under his hat.
(First: Episode 0231)

Muppets
Ernie & Bert — Bert finds it difficult to listen to Pigeons in the News while Ernie and the Sesame Street Citizens' Band are outside practicing. In yet another case of miscommunication between the two, since Bert doesn't like it when they practice outside, Ernie leads the band into the apartment so they can practice inside.
(First: Episode 0982)

Cartoon
What if a turtle and rabbit switched appearances?
(First: Episode 0483)

Song
"Three of These Kids" (barbels)
(First: Episode 0474)

Muppets
Ernie sings "Rubber Duckie."
(First: Episode 0078)

Film
A showcase of J words
(First: Episode 0631)

Cast
Olivia and the kids spend an afternoon with Barkley in the park. By the end of it all, he's much too tired to return to Sesame Street. They situate him in the backseat of a Hansom cab as they follow along.
(First: Episode 1301)

Cartoon
Little girl and cat (she imagines role reversal)
(First: Episode 0784)

SCENE 2
Ask Oscar
Telly reads a letter from Matilda Yucchman of Chagrin Falls, whose Aunt Alice gifted her a "UD" and she doesn't know what to do with it. Oscar has also been given the same thing and shows how to make it into the word "MUD."

Cartoon
Pinball Number Count #8
(First: Episode 0998)

Song
"Song of Eight"
(First: Episode 0016)

Muppets
The Count sings "Eight Beautiful Notes."
(First: Episode 1291)

Cartoon
Stop-frame animation of a girl on a beach, reading a book containing pictures of various sea creatures that come to life as she comes to their pages.
(First: Episode 1434)

Film
Swimming and flying pelicans.
(First: Episode 0322)

SCENE 3
Deena's block tower topples over and she gets very cranky. Maria suspects Deena needs a nap and sings "What You Really Need is a Nap." Deena falls asleep in Maria's lap.

Cartoon
A gorilla who knows G words applies for a job.
(First: Episode 0131)

Film
A little boy narrates the various activities his family partakes in on a typical Monday.
(First: Episode 0127)

Muppets
Ernie & Bert — Bert tells Ernie to put his rollerskate away. Ernie imagines what would happen if Bert would step on it... he would most likely slide out the door, and fetch him an ice cream cone on the way!
(First: Episode 1453)

Cartoon
A duckling dresses itself, naming all the parts of its coat.
Artist: Cathryn Aison
(First: Episode 1195)

Muppets
The Amazing Mumford waves his magic wand over a transparent glass cookie jar and makes the jar become full of cookies and then empty (over and over) as an anxious Cookie Monster watches.
(First: Episode 0287)

Film
Subway Train Empty & Full.
(First: Episode 0415)

Celebrity
José Feliciano sings "I Know an Old Lady Who Swallowed a Fly."
(First: Episode 0763)

Cartoon
A man weighs five pounds of bubble gum. He chews it all, blows a huge bubble, and flies away.
(First: Episode 0617)

Song
Joe Raposo sings "A Little Bit."
(First: Episode 0160)

Cartoon
G For Giggle (voice of Allen Swift)
(First: Episode 0357)
Muppets
At a library, Cookie Monster asks an Anything Muppet librarian for a box of cookies. The librarian becomes extremely frustrated because Cookie Monster doesn't understand the library doesn't have cookies!
(First: Episode 0926)

Cartoon
Abierto: Ali Baba arrives a bit late and gets run over by the 40 thieves leaving.
(First: Episode 0467)

Muppets
In ancient times, Grover invents the wheel to help Biff move a stone up a hill.
(First: Episode 0915)

Film
A panda tries to scratch an itch.
(First: Episode 0931)

Muppets
Biff sings "This Is My J."
(First: Episode 1169)

Cartoon
The Typewriter: J for jump
Artist: Jeff Hale
(First: Episode 0772)

SCENE 4
The kids play ball in the yard.
Notes
A summary provided to the CTW Archives for this episode includes a segment called Starship Surprise, however the piece doesn't appear in the script or in the final cut of the episode.
Community content is available under
CC-BY-SA
unless otherwise noted.