Sesame Street
The Count counts and sorts items at Hooper's Store
(repeat of 1201)
Air date
February 26, 1981
Season
Season 12 (1980-1981)

Sponsors
L, W, 6

This episode guide has been compiled from script materials provided by a trusted source.

ⓘ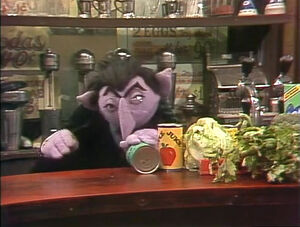 Picture
Segment
Description

SCENE 1
Oscar shows Bob and Susan his tape recorder, which he's used to record some of the "lovely" sounds of Sesame Street, including a car stalling, crying baby and jackhammering. He also picked up some dialogue from Big Bird talking to Mr. Snuffleupagus. Bob and Susan have a laugh, until they hear a mysterious voice on the recording reply, "Oh dear..."

Cartoon
Travis Travel demonstrates different methods of transportation.
(First: Episode 1459)

Muppets
Simon Soundman sings to his date about the "Sounds That Remind Me of You."
(First: Episode 1432)

Cartoon
Three birds enter a cuckoo clock to do their job.
(First: Episode 0407)

Film
A young girl paints a picture of her ranch.
(First: Episode 1460)

Cartoon
A man in a bowler hat hears different sounds behind each door.
(First: Episode 1409)

SCENE 2
Biff is teaching Big Bird about carpentry. Big Bird's brought his tools, but since he wasn't sure what he needed, he brought 4 hammers. As Biff leaves to get his tools, David, Maria and the kids pass by and borrow them all. Biff returns, lacking a hammer of his own, but aware of Big Bird's stock. Big Bird points out they're all gone, but he knows where to borrow one.

Cartoon
Six camels
Artist: Owe Gustafson
(First: Episode 1503)

Muppets
Ernie & Bert — Bert says that he's going to demonstrate quiet by talking quietly to Ernie. But when he tries, Ernie claims that he can't hear what Bert is saying. Finally, Bert gets frustrated and shouts at Ernie; Ernie tells Bert not to be so loud.
(First: Episode 0150)

Cartoon
A hippo who lives in the country, and likes it quiet, is disturbed when a mouse, who likes it loud, moves in.
Artist: Jeff Hale
(First: Episode 1432)

Film
A film insert of kittens playing, with child voiceovers in English and Spanish.
(First: Episode 0429)

Cartoon
W for witch
Artist: Jeff Hale
(First: Episode 1182)

Muppets / Cast
Gordon plays a game with the viewer - which person belongs in the Quiet Family and in the Loud Family?

Cartoon
A boy learns to put his mom's letter in the mailbox all by himself (with a little help).
(First: Episode 1497)

Muppets
Muppet & Kid Moment — Herry Monster and Christopher explore the ways they're the same and different.
(First: Episode 1200)

Cartoon
Thelma Thumb: A boy's toy airplane's controls break. Thelma comes to the rescue by steering the plane.
Artist: John Korty
(First: Episode 1423)

Film
Spinning Bus Stop sign
(First: Episode 0931)

Cartoon
B ... US! We're on the bus!
(First: Episode 0785)
Muppets
Ernie & Bert — Bert tells Ernie not to eat cookies in bed, because he might get crumbs in the bed. Ernie decides to eat cookies in Bert's bed instead.
(First: Episode 0282)

Cartoon
W - wallpaper
(First: Episode 0291)

Insert
Snuffy does a tap dance dressed as Shirley Temple.
(First: Episode 1079)

Cartoon
Kids hear an L poem.
(First: Episode 0198)

Muppets
Alphabet Chat: Lord Chatterly's poem on the letter L ends in chaos as usual.
(First: Episode 0762)

Animation
Sand L/l
(First: Episode 0632)

Cartoon
"I'm six years old today!"
(First: Episode 0357)

Muppets
In a subway, two Anything Muppets observe how loud and quiet it is.
(First: Episode 1432)

SCENE 3
David has to make a delivery and leaves The Count in Hooper's Store to prepare the next order. He also grants the Count permission to count the objects before putting them away. Because there's so many items, the Count isn't sure where to begin, so he decides to group similar items together and then count them. He begins with the fresh vegetables, then the cans, then the boxes.

Muppets
Competitive flowers in a garden fight to be the tallest and the smallest.
(First: Episode 1455)

Cartoon
W for Wash
(First: Episode 0485)

Film
"Hey, let's make a road!" Kids do so at the beach, while a construction crew does the real thing.
(First: Episode 0295)

Celebrity
Richie Havens counts to 10.
(First: Episode 0742)

Muppets
Kermit the Frog interviews John-John, asking him to make dog and cat sounds, and making them louder.
(First: Episode 0914)

Song
Joe Raposo sings "There's a Bird On Me."
(First: Episode 0416)

Cartoon
Speech Balloon: L for Light
(First: Episode 0147)

SCENE 4
Now, the Count begins counting things aren't aren't foods.

Cartoon
A cat tries to teach the alley cats to play music in harmony.
(First: Episode 0926)

SCENE 4 cont'd
Next, the Count counts the items that crunch.

Film
"Indian Baby Bath"
Music: Joe Raposo
(First: Episode 0444)

SCENE 4 cont'd
The Count slides a box off the counter and counts items that can roll down the counter and fall into the box.

Film
Baby pigs run in a field, and drink their mother's milk.
(First: Episode 0169)




SCENE 4 cont'd
The Count starts counting upside-down things, when David returns, confused as to why the Count is still working on the first order. The Count describes the different ways he can count the items, as Big Bird announces the sponsors.




CLOSING SIGNS
Kermit holds up the Sesame Street sign, while The Kids hold up the CTW sign at the end.
Community content is available under
CC-BY-SA
unless otherwise noted.