Sesame Street
Mr. Hooper allows his store to be a location for a movie
(repeat of 1262)
Air date
March 10, 1981
Season
Season 12 (1980-1981)

Sponsors
I, W, 12

This episode guide has been compiled from script materials provided by a trusted source.

ⓘ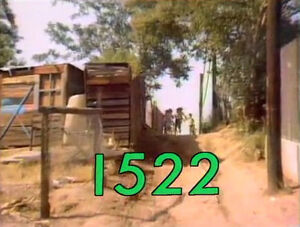 Picture
Segment
Description

Insert
David, Maria and Oscar the Grouch imagine how Gordon would look with various different hairstyles. In response, Gordon imagines them all shaved like him.
(First: Episode 1176)

Cartoon
Two men try to go over a very steep hill.

Film
Old paper, new paper
Music: "Blue Nosed Gopher" by Graham Preskett
(First: Episode 0972)

Muppets
A shark sings about his "Perfecty Pearl-White Teeth."
(First: Episode 1446)

Cartoon
A blue triangle looks for his friend in a museum.

Film
Footage of a sunflower seed factory, where birdseed bells are manufactured.
(First: Episode 1181)

Cartoon
A little girl sings "The Alphabet Song," while continually admonished by an adult in voice-over.
(First: Episode 0010)

SCENE 1
Maurice Monster is puzzled by the nursery rhyme in his book. Bob points out that he's reading the words backwards.

Cartoon
Capital I, he's quite a guy
(First: Episode 0368)

Film
Kids in voiceover watch a film with a series of close-up shots and guess that a group of children are playing leapfrog in the park.

Cartoon
"Magic Pig"
Artist: Vince Collins
(First: Episode 0772)

Muppets
Grover teaches the campers at Camp Wannagohoma about trees.
(First: Episode 1486)

Cartoon
Letter I (Beep Beep)
(First: Episode 0427)

Film
Kids narrate a tortilla contest in English and Spanish.
(First: Episode 0456)

Cartoon
W is for Worm
(First: Episode 0001)

Muppets
Ernie & Bert — Early in the morning, Ernie sees some pigeons through the window, and wonders if he should wake Bert.
(First: Episode 1187)

Cartoon
A white furball catches a train going through a door marked EXIT.
(First: Episode 0800)

Insert
Big Bird and Mr. Snuffleupagus sing a song about being best friends.
(First: Episode 1075)

Muppets
Muppet & Kid Moment — Grover asks Tanya to explain what "exit" means.

Film
Some kids watch a silent film featuring a lady in a burning house. They instruct her to "go to the EXIT!"
(First: Episode 0536)

Muppets
Clementine finds Forgetful Jones once again in a situation where he has no memory. She has him assess the clues to remember - he's sitting in a great chair for reading, has a lamp for reading and a book. Forgetful finally remembers - Buster was reading him a book.
(First: Episode 1465)

Cartoon
A spring bounces under and over animals.
(First: Episode 1236)

Film
Sesame Street Animal Films: Elk feeding.
Music: Robert Dennis
(First: Episode 0793)

Cartoon
Round and angled pegs fit into their respective holes.
(First: Episode 1452)

Muppets
The Two-Headed Monster finds a piano and decides to play it. The left half wants to play short notes, while the other half prefers to run his fingers across the keyboard. They decide to cooperate, and both use their notes to play "Chopsticks".
(First: Episode 1366)

SCENE 2
Famous movie director Richard Altman (Jerry Nelson) inspects Hooper's Store, which he wants to use in his latest production. Mr. Hooper enthusiastically permits the use of his store and is told that he and his friends can even be extras in the scene.

Cartoon
"Ladybugs' Picnic"
(First: Episode 0416)

Film
A film of butterflies
Music: Joe Raposo
(First: Episode 0406)

Muppets
Two germs attempt to infect a human mouth, until a mighty toothbrush frightens them off and begins cleaning.
(First: Episode 1482)

Film
Horses compete in a contest to see who can pull the most cement.
(First: Episode 0556)

Cartoon
The Typewriter: W, Wall
(First: Episode 0790)

SCENE 3
Everyone primps themselves to be on camera soon, as Richard's assistant begins setting up the equipment. Bruno brings over Oscar, who too wishes to be on camera. Richard looks them over and permits Bruno to be in the film, rejecting Oscar, who doesn't take it very well.

Cartoon
"Wanda the Witch"
Animation by Tee Collins
(First: Episode 0001)

Film
Things you can carry
Music: Joe Raposo
(First: Episode 0515)

Cartoon
Gloria talks about 'W'
(First: Episode 0806)

SCENE 4
The gang is in awe as the picture's star, Nick Redfield (Richard Hunt), arrives on set. As shooting begins, everyone goes about their business in the store, when Nick bursts in through the front door and immediately darts out the back door. Everyone is surprised that this is all that's being shot on the street, though Richard would like to stay for some lunch.

Cartoon
The Ringmaster displays 12 fluttering finches.
(First: Episode 1295)

Film
A girl gets on, in, and under a blanket in a park.
(First: Episode 0406)

Muppets
Same Sound Brown shows Farley that "That's What Reading's All About."
(First: Episode 1088)

SCENE 5
Mr. Hooper gets a call from Richard, inviting them all to the movie premiere once the film is completed. Bruno carries Oscar back home and Oscar decides to become Bruno's agent ("First, I'll get ya' on The Dating Game, then the Carson show...").