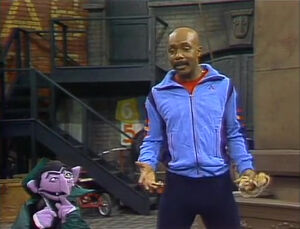 Picture
Segment
Description




SCENE 1
Luis needs to step out of the Fix-It Shop for a few minutes and asks Maria to mind the telephone. It only takes Maria a few moments to get overworked between repairs and phone calls. She muses about being somewhere peaceful, far away from the shop. She and the viewer imagine being at the beach, where she traipses through the water and finds a sandcastle. Luis returns to the shop just as Maria snaps out of it.

Cartoon
zip, zoom, zoom, zig, zag, zany, zoo.
(First: Episode 0359)

Muppets
"Zig Zag Dance"
(First: Episode 1567)

Film
A turtle walks slowly.
Music: "Funeral March of a Marionette" by Charles Gounod
(First: Episode 0281)

Cartoon
Jazz Alphabet: male vocalists shout each letter.
(First: Episode 0619)

Film
To a jazz rhythm soundtrack, the camera zooms in on flowers growing on a tree.
(First: Episode 0156)

Cartoon
A salesman tries to sell a Z. His customer stops the hard sell by locking the salesman in a zoo.
(First: Episode 0085)

Muppets
Ernie has four apples, and wants to draw the number 4, showing that he has four apples. However, Cookie Monster wants to eat an apple, so Ernie crosses out the 4 and draws a 3. Then Cookie Monster decides not to eat the apple, causing Ernie to have to cross out the 4 again and draw another 3, over and over again.
(First: Episode 0140)

SCENE 2
Herry Monster plays a game with a boy named Eric, who closes his eyes and guesses what Herry hands him (a ball, a feather, and his head).

Cartoon
The Typewriter: Z for Zoo
(First: Episode 0776)

Muppets
Grover tries to demonstrate first and last by being first in line, but the other monsters keep switching on him.
(First: Episode 1307)

Cartoon
A photographer shows off his first picture of cows, his next picture of ducks, and his last picture of a pig.
(First: Episode 1245)

Cartoon
A kid tries to push his toy house through the front door without the door closing.
(First: Episode 0914)

Film
Marching band cymbal crash #2
(First: Episode 0527)

Cartoon
On his way to the store, a boy gets distracted and remembers to buy different things.
(First: Episode 0768)

Muppets
Monsterpiece Theater: Upstairs and Downstairs
(First: Episode 1162)

Muppets / Celebrity
Malcolm imagines a walk in the woods based on the music James Galway plays on his flute. His imaginary walk tuckers him out, so James plays him a lullaby.
(First: Episode 1423)

Cartoon
Two Farm Animals
Artist: Owe Gustafson
(First: Episode 1447)

Muppets
Herry Monster holds a sign with the word "NO" on it and tells Ernie that he can make him read his sign. Ernie replies "Oh no you can't!", and eventually gets the joke. He tries it on Bert, but the gag backfires when Bert bets he can get Ernie to read the sign.
(First: Episode 0416)

Cartoon
A dog tries to meow, but can only bark.
(First: Episode 0829)

Film
A man makes a shadow puppet of a swan.
(First: Episode 1118)

Cartoon
Billy Jo Jive investigates the case of the missing guitar strings.
(First: Episode 1234)

Muppets
The Two-Headed Monster reads the word "Pop" and blows up a balloon so they can pop it.
(First: Episode 1569)

SCENE 3
Biff is angry because he and Sully have been put on the night shift, which means they have to cancel bowling night. Biff vents about being angry and notes how Sully never gets angry, unaware of how much Sully fumes behind him.

Muppets
Little Jerry and the Monotones sing "Mad."
(First: Episode 0240)

Film
A man makes a shadow puppet of a camel.
(First: Episode 0593)

Cartoon
Two lines intersect at the middle of the screen and have an argument; they cooperate by making a cross.
(First: Episode 0276)

Cast
Sleeper tries to wake up in the morning. (David as "Sleeper").
(First: Episode 1357)

Cartoon
2 farmers
(First: Episode 1599)

Muppets
Muppet & Kid Moment — Big Bird and Scottie read a "Don't Walk" sign.
(First: Episode 0994)

Film
A gibbon swings, and an audience cheers when the film ends.
(First: Episode 0009)

Muppets
Game Show: The Remembering Game
(First: Episode 0310)

Animation
First leaf, last leaf
(First: Episode 0794)

SCENE 4
The Count wants Gordon to start his daily exercises, so he can count them. Gordon encourages the Count to exercise too, and he'll be able to count his own exercises. The Count starts doing toe-touches while counting them.

Cartoon
B is for bubbles, bubbles and more bubbles. And Bosco, who is taking a bath.
(First: Episode 0355)

Muppets
Ernie & Bert — Bert tells Ernie that if he can clean the messy apartment in fifteen seconds or less, he will give Ernie his dessert, ice cream and cookies.
(First: Episode 0033)

Film
Kids paint pictures of things that start with B.
(First: Episode 0008)




SCENE 5
Now at night, Gordon is surprised to find the Count is still doing toe-touches (having counted over 4,000). The Count is exhausted, but needs something to count. Gordon points out "one exhausted, totally worn-out Count," cueing some thunder and lightning of his own. Luis announces the sponsors.




CLOSING SIGNS
Bob holds the Sesame Street sign, while Olivia holds the CTW sign at the end.
Community content is available under
CC-BY-SA
unless otherwise noted.