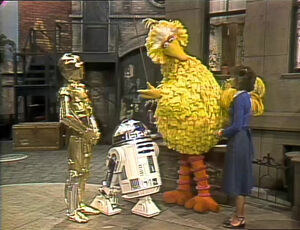 Picture
Segment
Description
SCENE 1
Big Bird is at the bus stop to wait for C-3PO and R2-D2. When the bus arrives he sees them again but he gets into the bus as it keeps moving!

Cartoon
A story of a man who hates frogs (voiced by Daws Butler), until his swamp becomes infested with flies.
(First: Episode 0387)

Muppets
Ernie & Bert — It's cold outside, so Bert tries to ask Ernie to play a game with him. Ernie keeps bringing winter equipment into the room, thinking Bert wants to play outside. It turns out he just wants to play a game of checkers.
(First: Episode 1617)

Film
A scuba diver shows up and down.
(First: Episode 0695)

Cartoon
A circle becomes a clock, balloon, sun, etc.
(First: Episode 0358)

Film
A girl explains her life in a motor home.
(First: Episode 1235)

Cartoon
Pinball Number Count #2
Artist: Jeff Hale
(First: Episode 0987)

Muppets
Muppet & Kid Moment — John-John and Herry Monster count to twenty.
(First: Episode 0441)

Cartoon
Letter U salesman
(First: Episode 0202)
SCENE 2
Bob meets C-3PO and R2-D2 and sings the alphabet along with the kids (and droids).

Cartoon
Billy Jo Jive and Sunset help out Wrong Way Willie, a kid who gets many things wrong (such as wearing a football outfit on the way to play basketball).
(First: Episode 1172)

Muppets
At a library, Cookie Monster asks an Anything Muppet librarian for a box of cookies. The librarian becomes extremely frustrated because Cookie Monster doesn't understand the library doesn't have cookies!
(First: Episode 0926)

Film
Two birds
Music: Joe Raposo
(First: Episode 0295)

Cartoon
This is a big letter V poem
(First: Episode 0507)

Insert
Various things in a kitchen become CERRADO. (Luis voice-over)
(First: Episode 1343)

Cartoon
Big, bigger and biggest elephants
(First: Episode 0389)

Film
Footage of a coral reef, showcasing the plant life and the fish.
Music: Joe Raposo
(First: Episode 0466)

Cartoon
Two Farm Animals
Artist: Owe Gustafson
(First: Episode 1447)

SCENE 3
Linda meets C-3PO and R2-D2.

Muppets
Kermit the Frog sings "This Frog"
(First: Episode 0944)

Song
"I'm Not a Baby Anymore"
(First: Episode 0652)

Cartoon
Vitamins give vim, vigor and vitality to a droopy V
Artist: John Hubley
(First: Episode 0311)

Muppets
Lefty tries to sell a letter U, which he claims to have had in his family for years. The U is actually a string tied to two poles. However, Ernie already has a U, but when he says that yesterday he could have used a V, Lefty stretches out the U's bottom to turn it into a V.
(First: Episode 0126)

Cartoon
A man (voiced by Jack Dodson) describes places that begin with U and what you can do with the letter U.
(First: Episode 0416)
SCENE 4
R2-D2 falls in love with a fire hydrant.

Song
"My Sister and I"

Muppets
The Two-Headed Monster learns to use manners while eating with a spoon.
(First: Episode 1340)

Cartoon
A bully says the alphabet to a mild-mannered gardener, who hits him in the face with a pie at the end.
(First: Episode 0279)

Film
A film shows parts of an elephant.
Music: Joe Raposo
(First: Episode 0034)

Animation
Today's Secret Drawing is a fireman.
(First: Episode 0200)

Muppets
Grover is a guest on the game show "Name That Sound."

SCENE 5
Big Bird and C-3PO plan to go to the park but R2-D2 doesn't want to go there because it's raining right now.

Cartoon
Super 2 solves problems by doubling things.

Muppets
The Beetles are "Thinking of U."
(First: Episode 1486)

Animation
Sand U/u
(First: Episode 0624)

Film
Alone Song
(First: Episode 0921)

Muppets
Muppet & Kid Moment — Ernie's lost the nickel he was going to use for candy, so Shola gives him another one.
(First: Episode 0565)




SCENE 6
After a brief rainy day, C-3PO finds out that it's not raining anymore. Big Bird, C-3PO and R2-D2 are finally going to the park. Big Bird announces the sponsors.